The 390 HP L36 and 425 HP L72
One could quite accurately state that the Corvette came of age rather quickly. In fact, in just over a decade, the Corvette transitioned from a sporty, yet underwhelming roadster, to a fire-breathing performance car for the ages. Upon its 1953 release, America's sports car mustered only 150 HP, yet in 1966, the newly evolved Corvette nearly tripled this level of output.
It was during this year that the Corvette was offered with not one, but two different variants of the robust 427 cubic-inch (7.0L) V8. In its most potent form (L72), the 427 officially produced 425 HP. However, most believe this value to be grossly understated. For more information on the 1966 Corvette, check out the 1966 Corvette Research Guide.
427CI History
By the late 1960s, the automotive landscape had undergone a rather significant change of sorts. Increased demand for sporty, high-performance cars had given way to what many now refer to as the power wars.
Consumers from every walk of life clamored at any opportunity to climb behind the wheel of a race-ready production car, and the bulk of automotive manufacturers were happy to oblige.
It was during this era that sales figures directly reflected the number of horsepower underneath a vehicle's hood. This was a fact that General Motors was all too aware of, as were many other automakers.
Ford had recently released the 427 cubic-inch Shelby Cobra, leaving those at the helm of General Motors' design and development team feeling as if they were losing ground. Not to be outdone, GM got down to the business of cracking the 400 cubic-inch mark themselves.
After some deliberation, GM began offering their now legendary 427 cubic-inch series of engines. The 427ci was actually offered in two distinct forms for the Corvette, the 390 HP L36 and the 425 HP L72.
Both of these engines were said to have been rated quite conservatively, with the former having truly produced somewhere in the realm of 420 HP, while the latter was said to have been capable of mustering approximately 450 HP.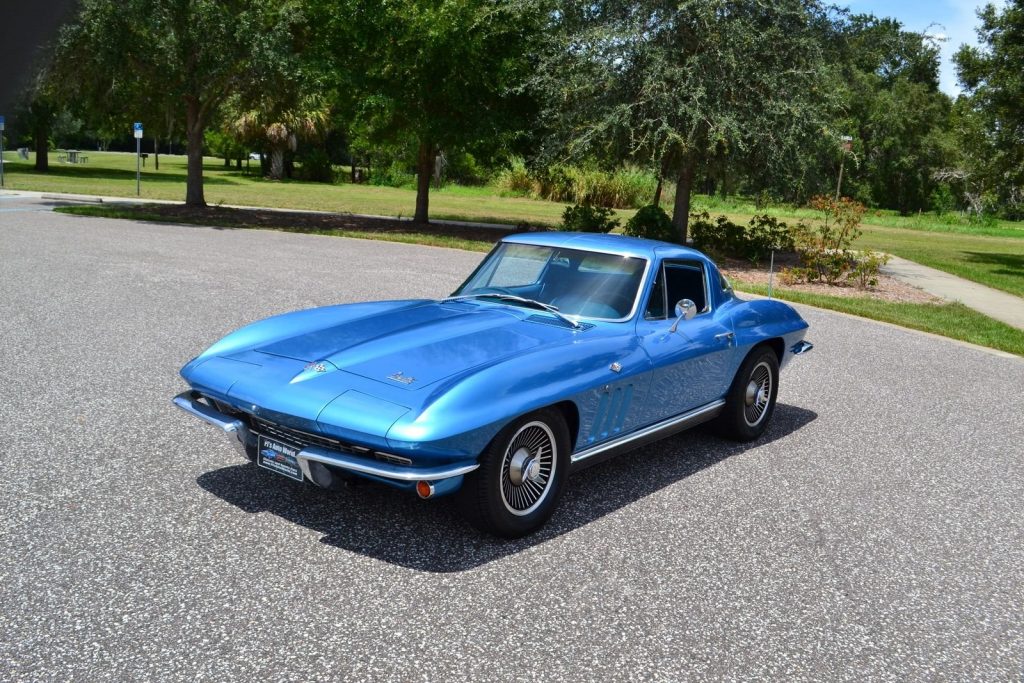 7.0L 427CI Specifications and Technical Configurations
Both of GM's new "Turbo-Jet" 427ci V8's were engineered for superior performance from the block up. Each possessed strengthened bearing bulkheads and widened main bearing caps. The 390 HP variant featured two-bolt mains, while the larger 425 HP Turbo-Jet was of a four-bolt configuration. The latter also featured special hardened main and connecting rod bearing journals, in a bid to increase crankshaft durability.
The 425HP version of the 427ci Turbo Jet featured high-strength, impact-extruded pistons. These solid dome pistons utilized inboard pin bosses, for increased rigidity. The 427's top compression rings were of a barrel-contoured design, with molybdenum inserts. Secondary and oil control rings were of a chrome-plated configuration, allowing for a tighter piston to cylinder wall clearances.
The 427ci V8, in both of its forms, featured a bore measurement of 4.25", and 3.76" stroke. However, each carried its own distinct compression ratio. In its 390 HP configuration, the 427ci ran on a 10.25:1 compression ratio, while the engine's 425 HP variant operated off of an 11.0:1 compression ratio.
In its milder form, the 427ci featured hydraulic lifters, while mechanical lifters were found in the more robust of these two engines. An outwardly aggressive camshaft was also standard fare in both powerplants.
One of the most compelling features of the 427ci V8's design was that of its cylinder heads. The 427's cylinder heads were designed to be free-flowing, and conductive to unrestricted induction. These heads also featured more direct exhaust ports than those found on many prior GM powerplants.
To complement the 427's free-breathing characteristics, those at GM outfitted the engine with intake and exhaust valves of sizable proportions. The 427ci V8's intake valves measured 2.190" (435-hp) or 2.065" (390-hp), respectively. The engine's exhaust valves measured 1.720" for both 427 variants. Valve lift was also quite pronounced, as the 425 HP carried a lift designation of .5197", while the 390 HP 427 featured an intake lift of .4614", and an exhaust lift of .4800".
In both forms, the 427 cubic-inch V8 came topped with a Holley four-barrel 715-cfm carburetor, which was mounted to a high-performance aluminum intake manifold.
427CI (7.0L) Specs Index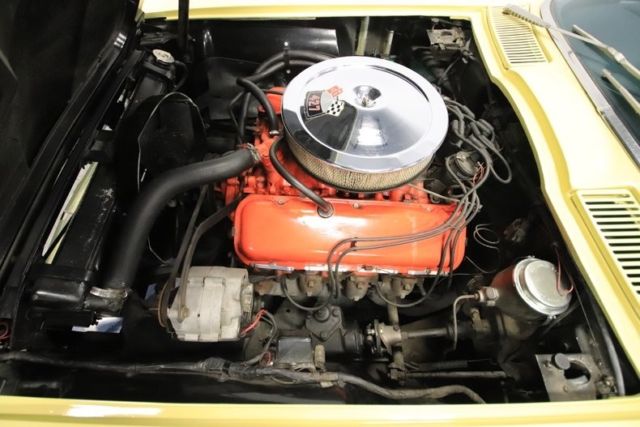 Horsepower: 425 HP @ 5,600 / 390 HP @ 5,200 RPM
Torque: 460 lb./ft. @ 4,000 / 460 lb./ft. @ 3,600 RPM
Compression Ratio: 11.0:1 / 10.25:1
Displacement: 427 cubic-inches (7.0 L)
Cylinder Bore: 4.25 inches (107.95 mm)
Stroke: 3.76 inches (95.50mm)
Vehicles Using the 427CI (7.0L) Engine
The 427 cubic-inch big-block V8 was used in numerous General Motors' vehicles throughout the years. However, the engine's output varied, depending upon the vehicle in which it was found. Outside of its use in the Corvette, the 427 also served as the powerplant of choice for the Camaro, as well as numerous Chevrolet truck and sedan models.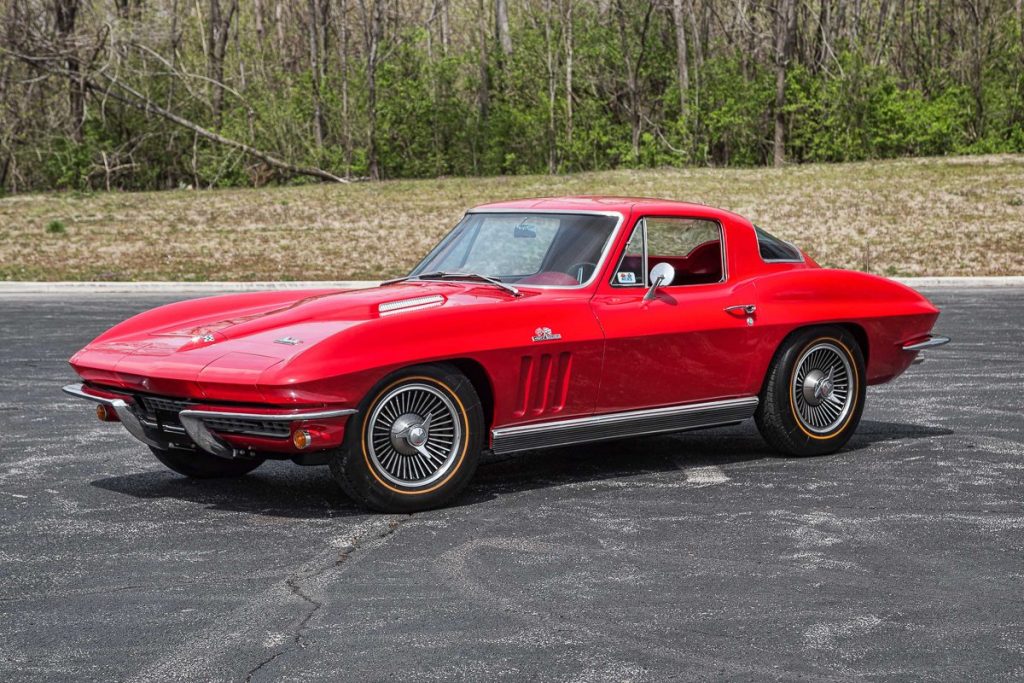 GM Big-Block Performance
The development of the 427 cubic-inch V8 proved to be a pivotal moment in Corvette history. The engine's release bolstered the Corvette's performance to a level that allowed America's sports car to compete with the Shelbys of the day. This prevented Chevrolet from being overshadowed in the era's power wars, which at the time, heavily influenced overall unit sales.
Today, the L72 427 is regarded as one of the most fearsome powerplants to have been shoehorned beneath the hood of the Corvette, in its earliest years. In fact, many engine builders still refer to the L72 as one of the simplest and most cost-effective ways to achieve tremendous output, when modifying any C2 Corvette.