I'm in all the corners of the Corvette Internet world, so let me do the legwork for you. Here are some top stories from the Corvette community, with another series of news that should be helpful if you are in the market for a new (or used) Corvette.
1) C8 Snags Another J.D. Power Award
This recent "Multimedia" award is kind of a big deal, because according to J.D. Power's 8/31/23 press release, "Vehicle infotainment accounts for 25% of all multimedia problems for a third consecutive year, according to the J.D. Power 2023 U.S. Multimedia Quality and Satisfaction Study, released today. This year's study shows problems are at an all-time high, with nine of 10 problems being design-related. The top problem is connectivity issues with Apple CarPlay and Android Auto."
Just how comprehensive is this study?
"The 2023 U.S. Multimedia Quality and Satisfaction Study is based on responses from 93,380 purchasers and lessees of new 2023 model-year vehicles who were surveyed after 90 days of ownership. The study was fielded from February through May 2023."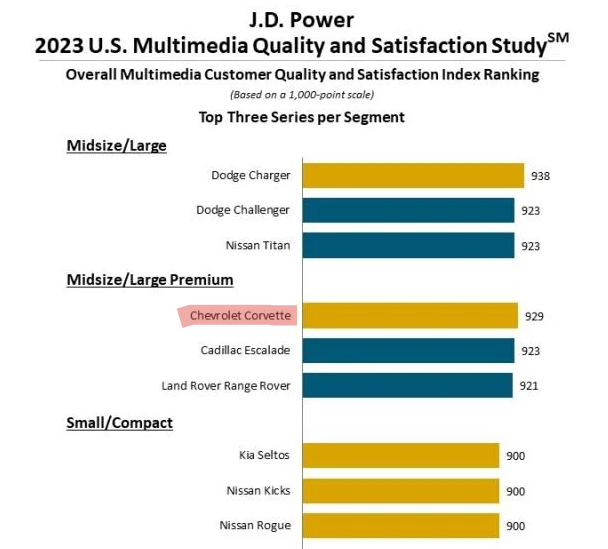 Want to read about more awards for the C8?
Click Here for a full feature on the C8 Awards and Accolades
2) Top Ten Corvette Dealers Through 8/31/2023
This list is especially helpful if you are shopping for a new C8, as it's reported that all of these dealers sell new customer-ordered Corvettes at MSRP. CorvSport reported here on the top ten through the first half of the year, and while the same ten are at the top, Rick Hendrick bumped Jim Ellis to move into 9th place. It's also worth noting MacMulkin's dominance, who sold a whopping 359 C8s since 7/01, securing their position as the World's Largest Corvette Dealer for the second year in a row.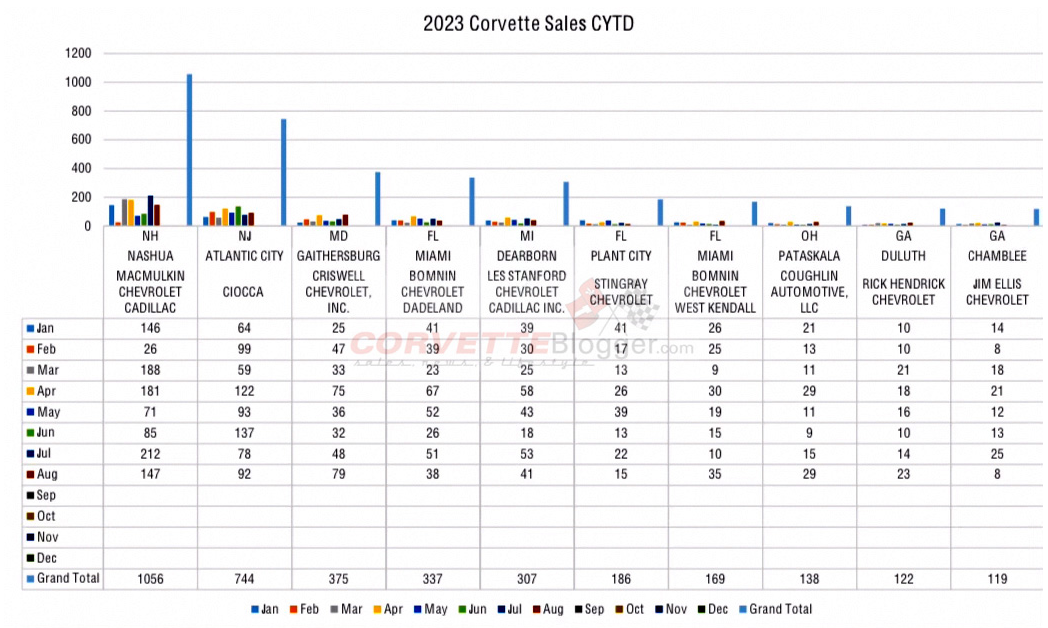 3) The C8 is One of the Top 20 Fastest Selling Used Cars on the Market
This doesn't come as much of a surprise, given the nature of C8 sales during the bizarre Covid Era market, where high demand in concert with supply chain issues and plant closures meant enthusiasts had unusually high wait times for a new Corvette. This dynamic has forced those hoping for instant gratification to look to the used market. Some of the highlights surrounding EVs are worth noting, given GM's entrance into Vette-electrification with the new hybrid E-Ray.
I've been hearing lots of chatter on social media, especially Facebook, that the used C8 market is starting to "crash", but this strong 16th place for the Corvette certainly seems to contradict that.
Highlights From The iSeeCars.com Study:
iSeeCars analyzed over 228,000 new and used car sales (1- to 5-year-old used cars) from July 2023
The average used car sells in 49 days, which is 6.1% faster than a year ago, but new cars have slowed by 25.7%
The Tesla Model S is the slowest-selling used vehicle, taking an average of 88.3 days to sell
New and used electric cars now take twice as long to sell despite massive price drops over the past year
The Tesla Model Y is the fastest-selling used EV, taking an average of 47.6 days to sell
Popular cars in the new and used market sell slower as consumers look outside mainstream models to find lower prices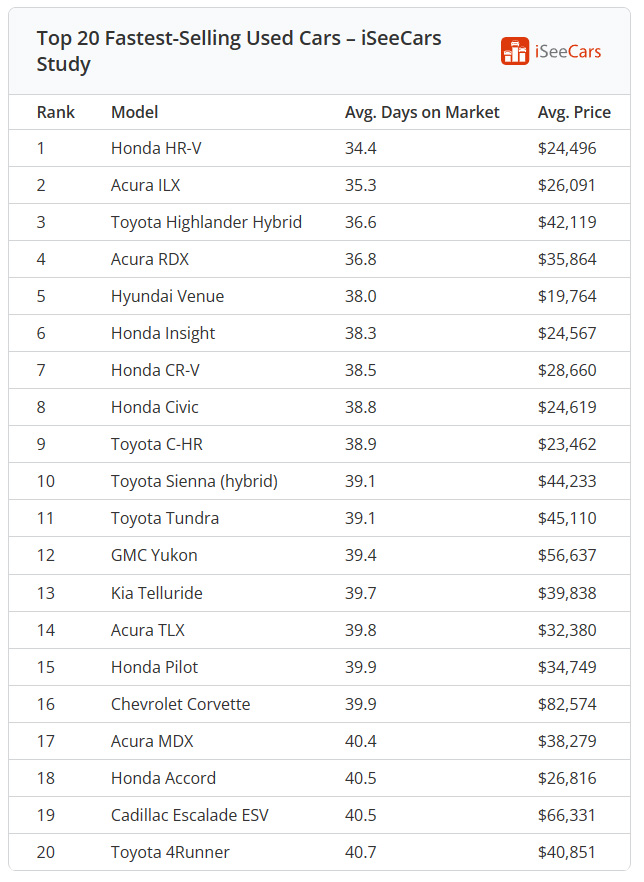 Click Here for the Full iSeeCars.com Study
4) Other resources: 2024 Corvette Build & Price Configurators
Whether you are just dreaming or looking to place an order soon, both of these functions from the GM website will satisfy your desires and needs. Another essential function of these tools is that you can export your build to your Chevy Rep. This will give him a copy of your exact build, and the reps will rely on this to ensure you the customer are getting your build ordered correctly.
Configurator Links
Click here for a C8 Purchasing Guide: Dealers at MSRP and the "Hall of Shame"
I hope you have enjoyed this short but concise recap. We have the fastest-growing Corvette community on our Facebook page, with over 151,000 followers (32,000 since January!). Come join other hardcore enthusiasts and say hello, Douglas B.