Corvette enthusiasts around the globe have been on the edge of their seats the last few months, wondering if the 1979 C3 will reign supreme and hold on to its record-setting production, when the dedicated workers at the St. Louis assembly plant cranked off 53,807 C3s. Okay, "edge of their seats" may be a bit of hyperbole, but the build-up to this potential record has certainly been fun to watch.
Here's a quick rewind to 5/31/2023, when the 2023 C8 broke into the top ten.
1979: 53,807
1984: 51,547
1977: 49,213
1978: 46,776
1976: 46,558
2016: 40,689
2007: 40,651
1980: 40,614
1981: 40,606
2023: 40,454
We've been following this for a while. Here are CorvSport's archived features, especially helpful if you are interested in seeing the exact production breakdown by model.
C8 Production Hits 40,454 on 5/31/2023
C8 Production Hits 44,987 on 7/12/2023
C8 Production Hits 46,153 on 7/20/2023
C8 Production Hits 48,384 on 8/07/2023
C8 Production Hits 51,044 on 8/29/2023
The Drum Roll… 2023 C8 Production
53,448
These numbers come straight from Corvette Product Manager Harlan Charles and were released recently during the 29th Anniversary Celebration at the National Corvette Museum. It is important to note, these numbers are for completed cars as well as those sequenced for production. Harlan says, "It's not the total final, but close to it." Want another milestone? Harlan says that it will be the highest year of production of the Corvette ever at the Bowling Green Assembly plant.
Congrats to Chevrolet for a strong 2nd place finish, and the Bowling Green record!
Here is a cool screenshot from the video below, that shows various breakdowns for the 2023 C8.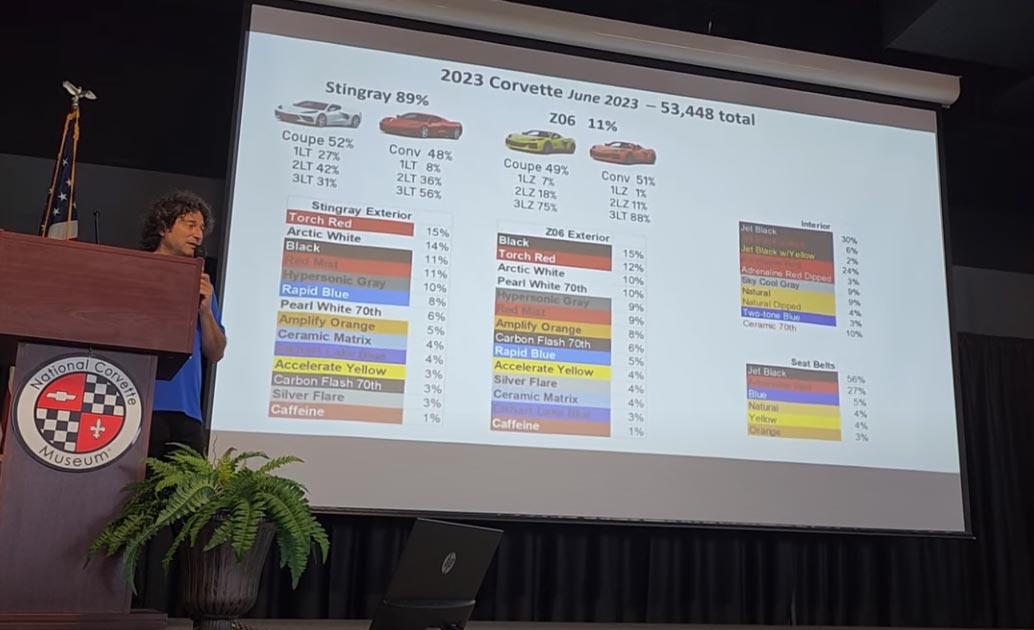 The Asterisk
How does a manufacturer overcome production stumbles with record plant closures and supply chain issues? Well, simply put, they extend the date for production to end, and that's exactly what GM did. For context on how many weeks the 2023 model year was extended, the 2022 model year ended on 5/06/2022. Yes, a substantial 4 more months of production, so it's understandable why I've seen numerous enthusiasts on social media try to diminish these numbers.
What do you think? Is the Bowling Green production record and 2nd place finish tarnished, or is this something we enthusiasts should acknowledge and celebrate? We have the fastest-growing Corvette community on our Facebook page, with over 151,000 followers (32,000 since January!). Come join other hardcore enthusiasts and say hello, Douglas B.
Corvette Team With 2023 Model Year Review