Most collectors will tell you that what makes something special and collectible is not only low production but that unique "it factor". After all, a vehicle could have low production numbers because it was simply undesirable and was nixed from production before further embarrassment ensued.
Meet Barry from Vette City, who sells Corvettes by appointment from his barn off the shores of Lake Keowee in South Carolina. And he likes to emphasize, he only buys from "individuals who cared for them well", with no auction Corvettes. The story on this one, as Barry details in his write-up, is that GM struggled to get the color right and after three separate attempts failed to meet production standards. They were then all titled to GM and sold to dealerships as used cars. How many of these unique examples are we talking about?
Just 15 Aztec Gold fifth-generation Corvettes were produced, and this one offered by Vette City is #3 of the bunch. In typical "used-car salesman" fashion (I used to be one!), Barry admittedly uses a plethora of superlatives to describe this 1998 Vette.
"The RAREST Corvette color in the last 50 years!!!"
"This is the unicorn, the holy grail!"
"THIS IS THE MUSEUM PIECE, THE COLLECTORS PIECE that you've been looking for!!!"
I'm not sure I've ever heard so many positive things about an early "wagon-wheeled" C5, but based on the numbers and uniqueness I'd say they all apply, to the right collector/buyer. Barry goes on to say, due to zero of these units being sold as "new" vehicles, Aztec Gold is considered a non-production color. I will admit, I'm not usually a fan of non-traditional colors for Corvettes, but this Aztec Gold does pop.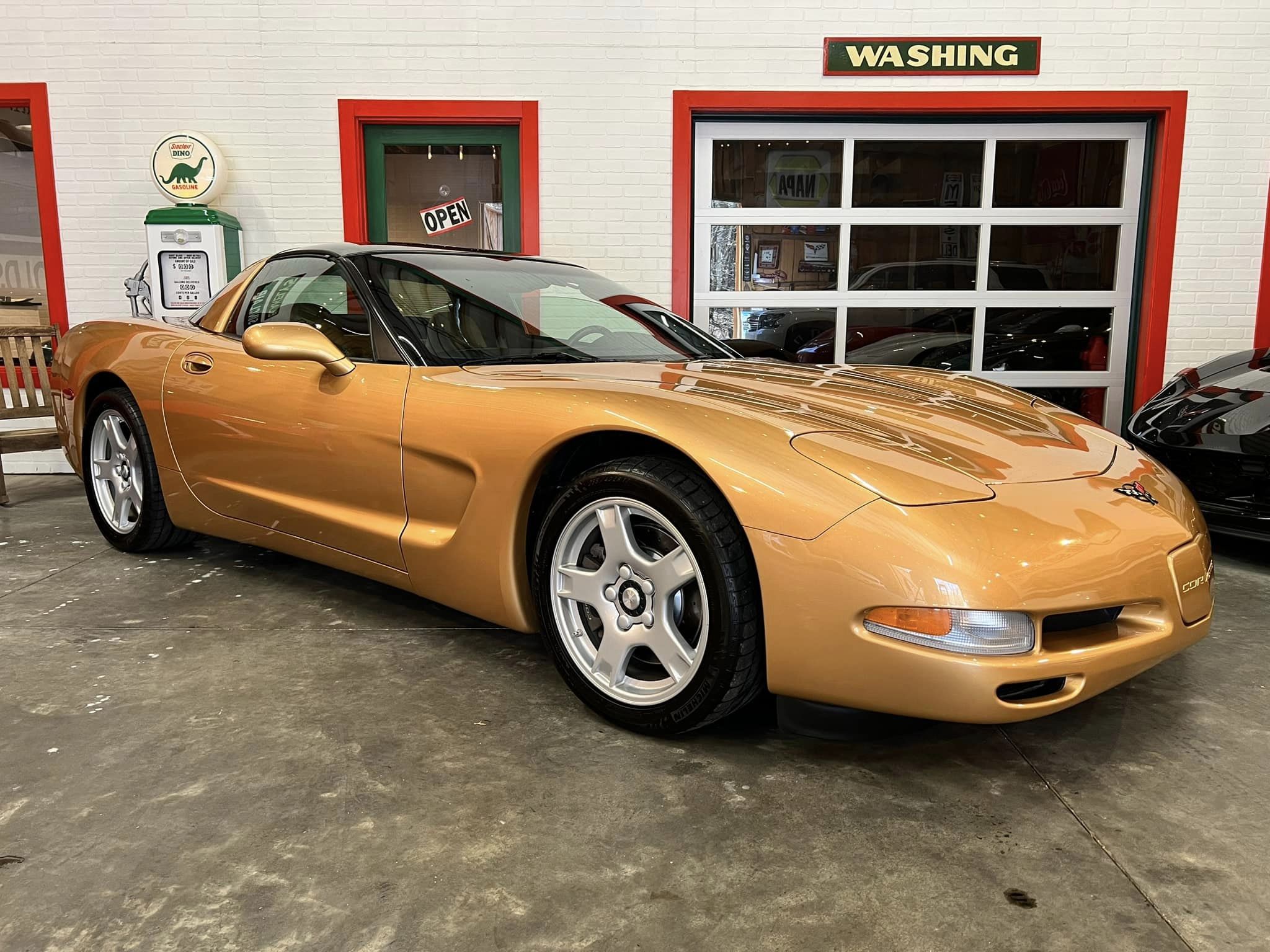 By now I'm sure you're wondering how much it will cost you to own this piece of Corvette history. Barry's no-haggle firm price is $39,900. He didn't indicate exactly where he acquired this rare Aztec Gold '98, but I think it's safe to assume it was more of a driver versus sitting in a museum or collection, based on the 24,000 miles accumulated over the last 25 years. We don't get much ownership history in the ad, other than a comment about a "perfect Carfax".
The aftermarket exhaust and cold air intake also indicate it was more of a driver, as does this innocent picture of her sitting in the prior owner's driveway, from a pre-sale Facebook post.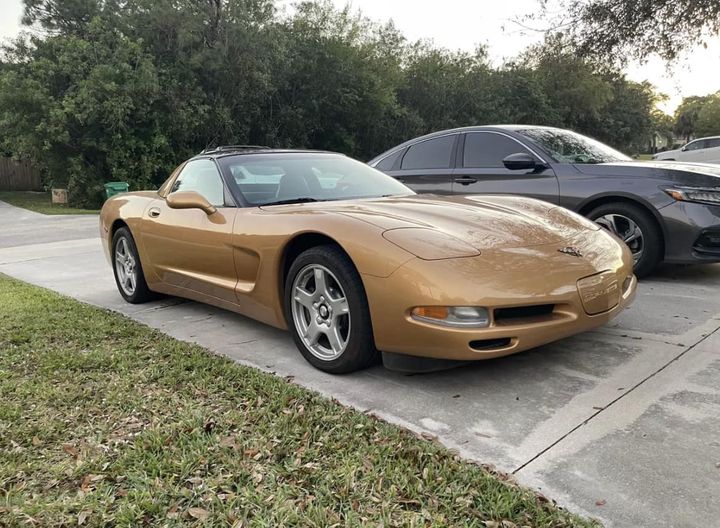 One last pitch from Barry as he goes on to say, "Most of the 15 made are currently held in private collections and will never be sold. This is the only one known to have come up for sale in the last 5 years…and the opportunity is NOW to add it to, or start, your collection. If you want a 1998 Aztec Gold Corvette for your collection, this is THE ONLY ONE IN THE WORLD for sale currently!!!"
I'll finish with more pictures of this stunning Aztec Gold 1998 Coupe available at Vette City. As an enthusiast and former used car dealer, I've followed him for years (but worth noting have no affiliation or financial interest). We have an active community on our Facebook page, I would love to hear from you!  Douglas B.