In 2020, Chevrolet unveiled its highly anticipated eighth-generation Corvette Stingray, marking a historic moment as the first midengine Corvette ever produced—an achievement long sought after by the original chief Corvette engineer, Zora Arkus-Duntov. Corvette engineers teased the motoring press with bold promises of exceptional acceleration and roadholding, despite a weight that exceeded expectations.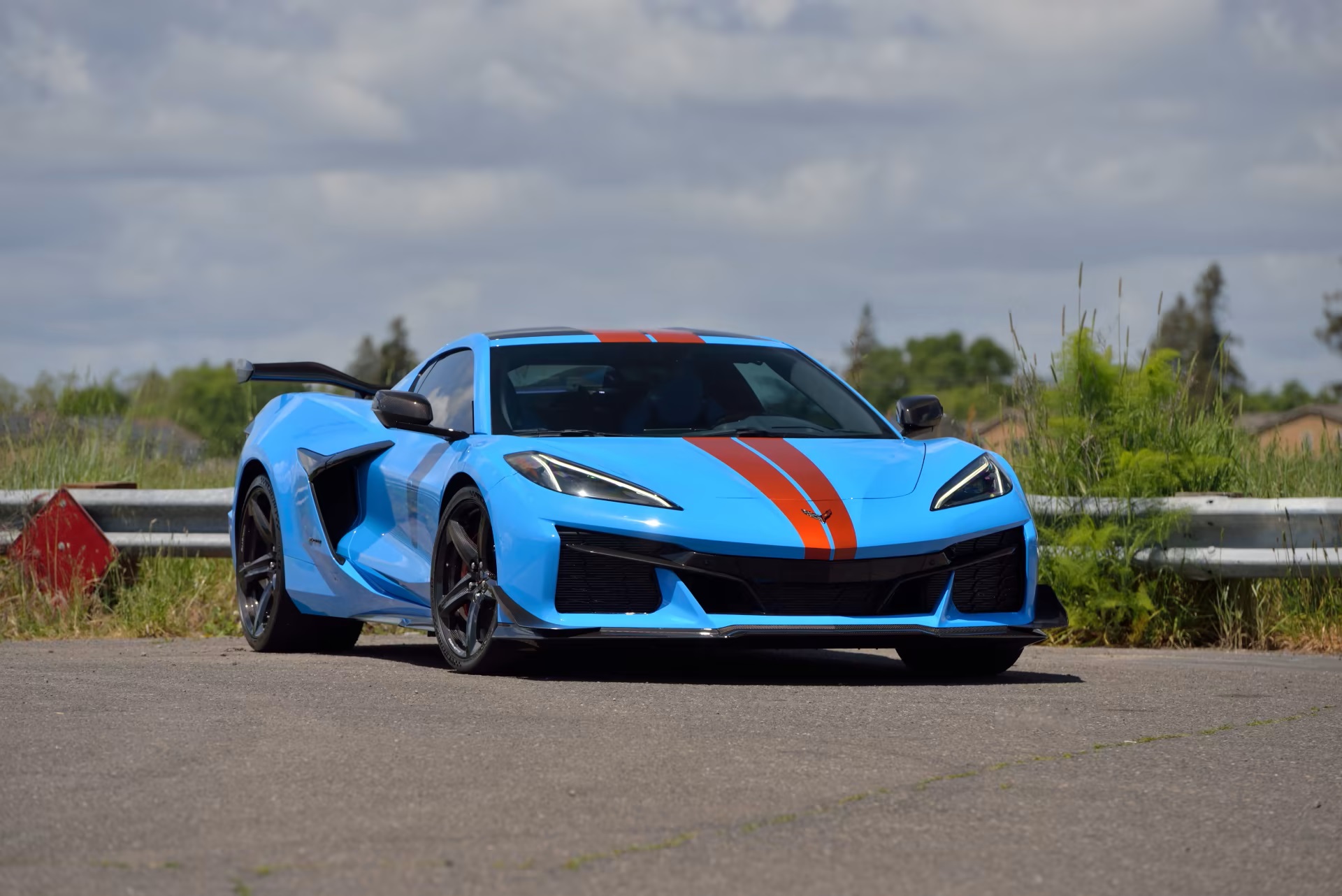 For the 2023 lineup, the Z06 made a triumphant return, pushing the boundaries of performance even further. Powered by the mighty 5.5L/670 HP LT6 V-8 engine, this Z06 boasts the most powerful naturally-aspirated V-8 engine currently in production.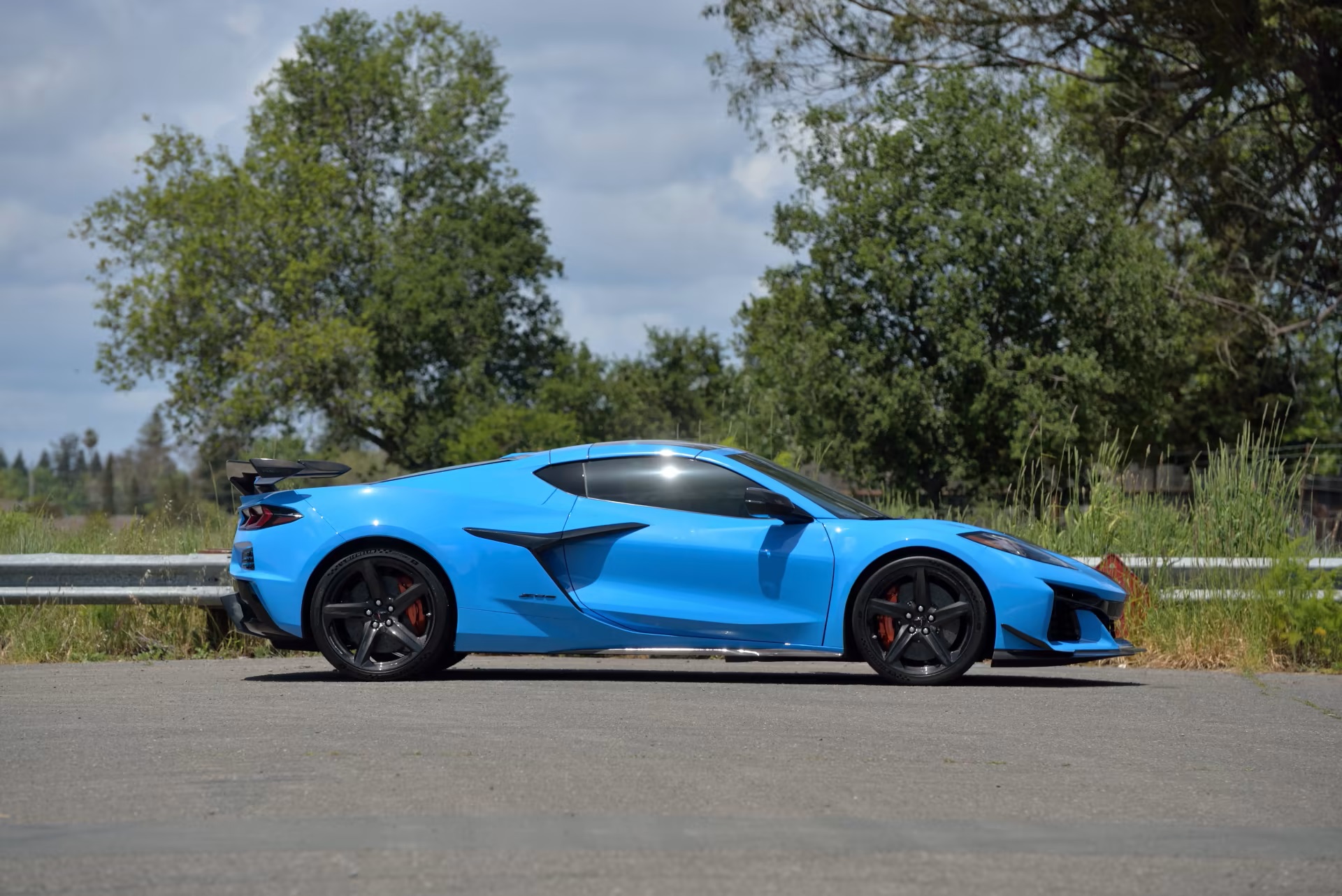 Its DOHC architecture and all-new flat-plane crankshaft deliver a soul-stirring exhaust note and an 8,600-RPM redline. As a track-focused marvel, the Z06 claims a 0 to 60 MPH acceleration in a blistering 2.6 seconds and an astounding 1.22 G in lateral acceleration, tamed by Brembo carbon-ceramic brakes with red-finished 6-piston front and 4-piston rear calipers.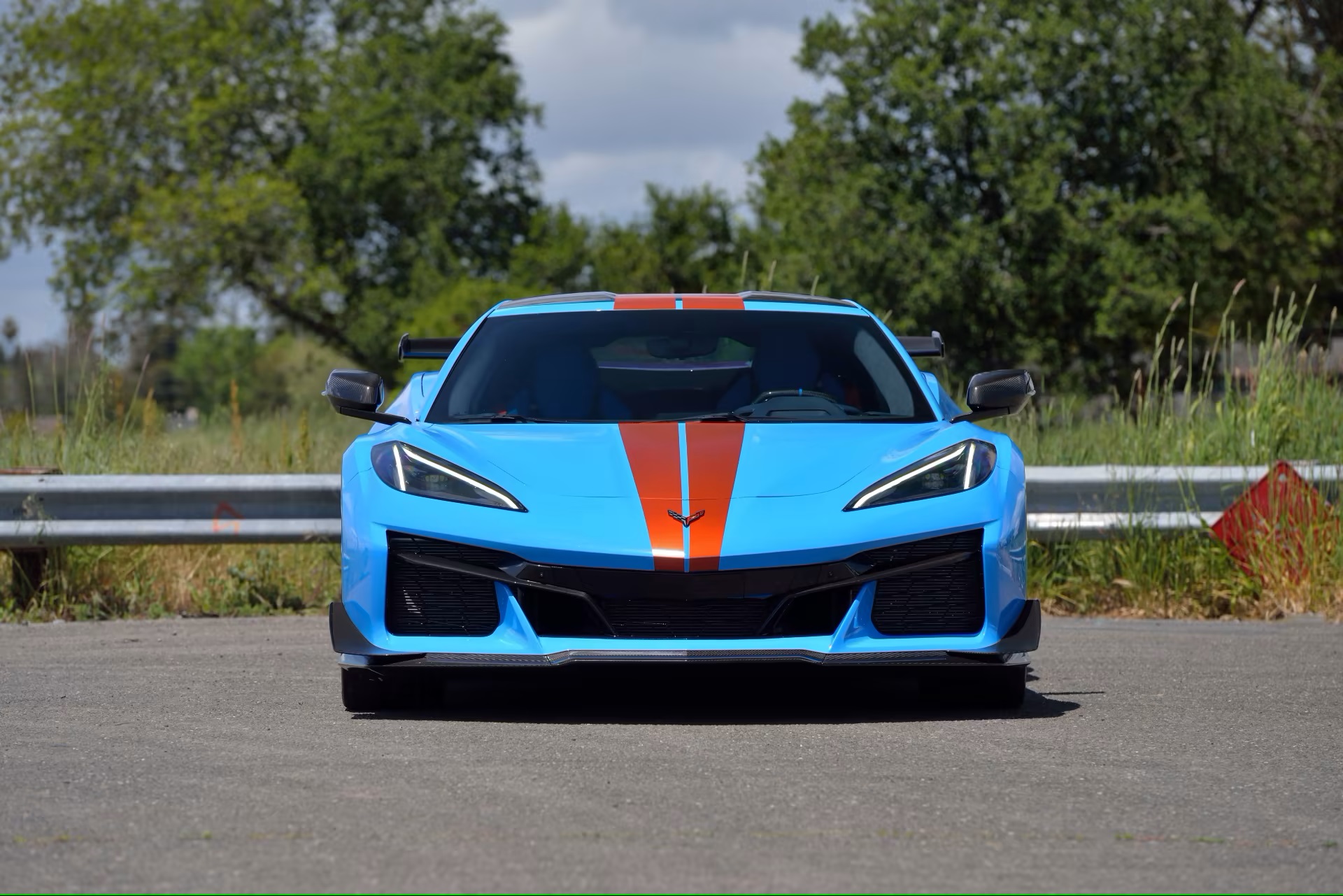 This 2023 Chevrolet Corvette Z06 Coupe stands out with its striking Rapid Blue paint finish, further accentuated by optional Edge Orange Fully Rendered C8.R Dual Racing Stripes. The interior is equally impressive, featuring the captivating Tension/Twilight Blue Dipped finish and enhanced with Option Package 3LZ, offering a leather-wrapped steering wheel with carbon fiber, the Custom Leather-Wrapped Interior Package, and the Sueded Microfiber-Wrapped Upper Interior Trim Package.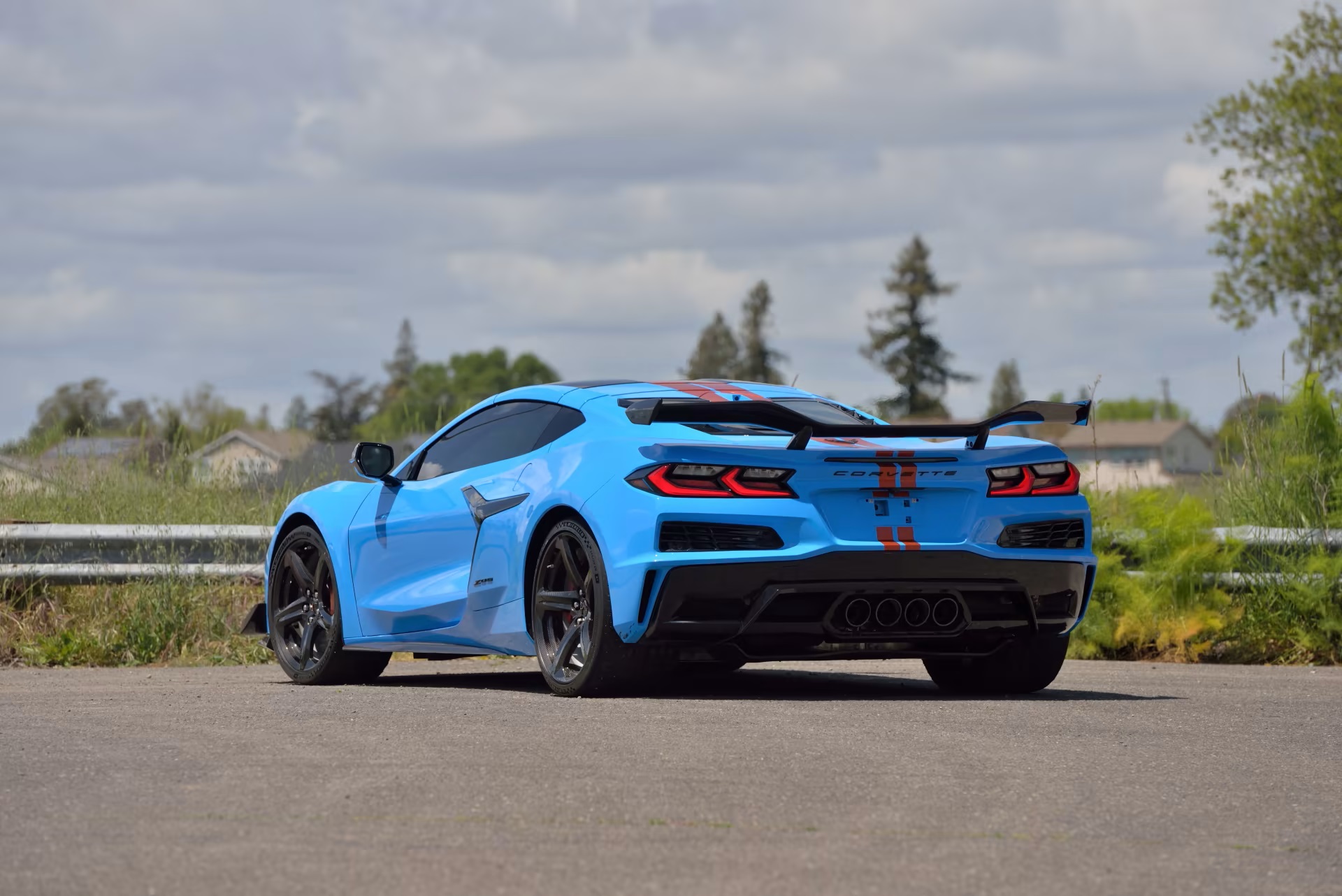 The $8,995 Z06 Ultimate Performance option is complemented by the Z07 Suspension option, ensuring maximum performance potential. Carbon fiber accents further elevate the competition theme, including the addition of a carbon fiber high rear wing.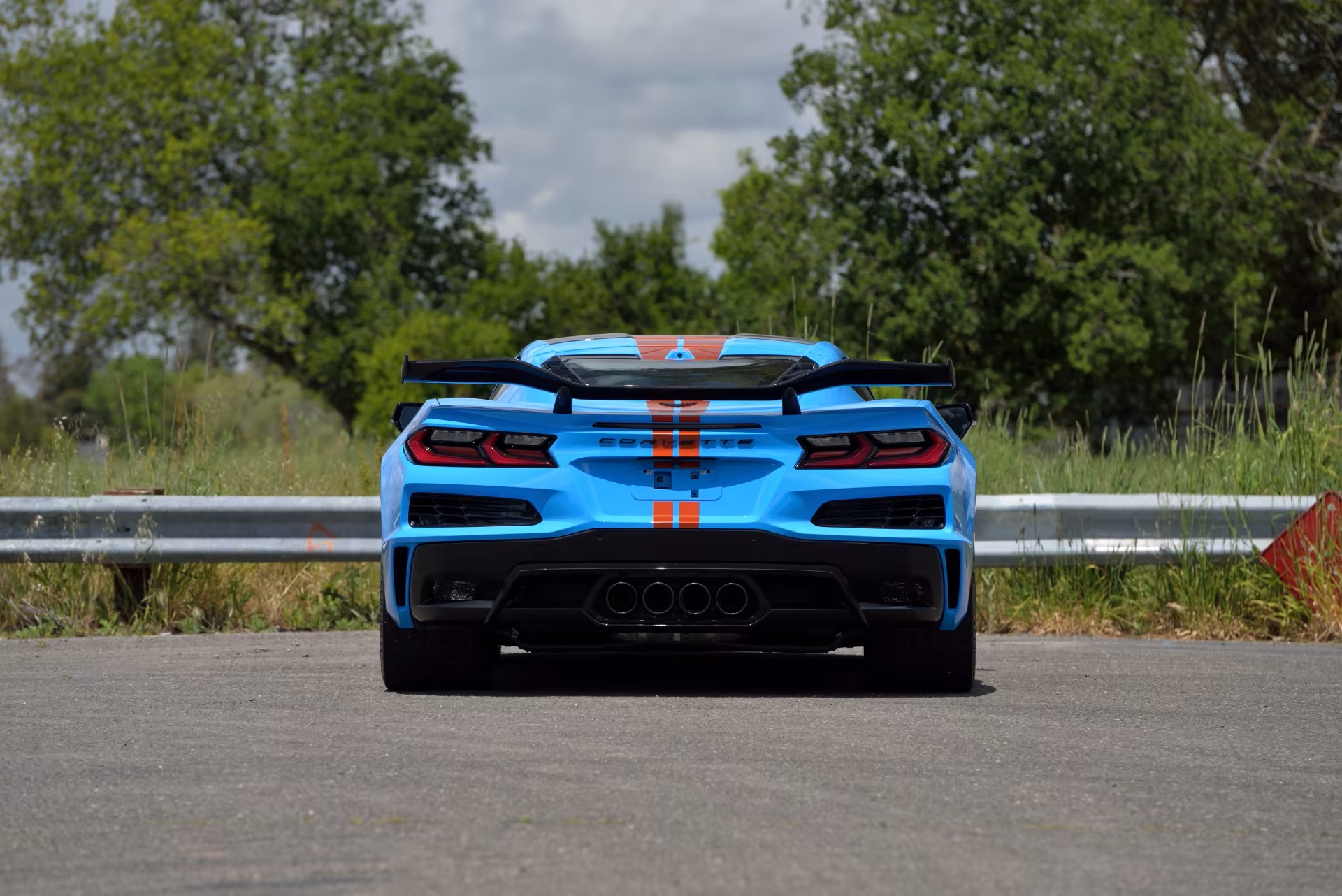 This meticulously equipped 2023 Chevrolet Corvette Z06 celebrates the iconic Corvette's landmark 70th anniversary and stands as an instant collectible, embodying exceptional performance and unparalleled style. The car is set to cross the auction block at at Mecum Monterey 2023 this coming August 17-19 and is expected to fetch somewhere between $275,000 to $325,000.
Source: Mecum Auctions