With all the crazy weather we've had around the country, from hurricanes down south to flash floods up north, I'm surprised we don't see more of these flood-damaged Corvettes pop up in the market. Let me begin by saying, I'm not against getting a deal, as I've seen a few on Facebook Marketplace and Reddit where enthusiasts did not hesitate to pull the trigger, and I would too under the right circumstances (like being able to take a test drive for one!).
But, nearly $60,000 large for a flooded 2021 C8 that you can't even start up, let alone drive?!? One that will have a rebuilt/salvage title when you bring her back to life? No thanks, that's a hard pass. But all those hurdles did not stop Youtuber Niko Brothers from pulling the trigger on this "zero mileage" C8, after fending off multiple bidders. His max was $50,000 but if you've even been caught up in the adrenaline (and ego) while bidding in a live auction, you will understand how easy it is to soar past your intended budget.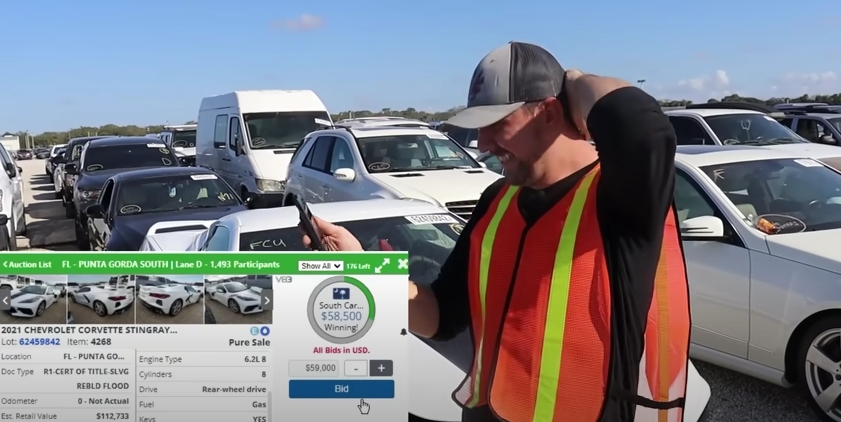 After a brief celebration, the quote of the day is "I hope I just made a good decision… this could go both ways, awesome deal or a landmine." I think he meant to say it could go either way, but you get the idea. You'll also notice they refer to the 3LT trim as LT3, but after viewing their channel it appears they aren't really Vette guys, so I'll give them a free pass.
After getting power to it they realize it in fact has 6000 miles (I find it odd that Copart doesn't try to do this). Fast forward to 8:30 for the suspenseful "will it start" climax.
Are you the only one with your mouth open? No way she cranked up just like that, it almost seems staged. But congrats to Niko Brothers for a "successful" purchase. A new battery, a quick check of the fluids, clean those auction markings off, and after reporting no dash warning lights are on, off they go for their 600-mile road trip home.
I can only speak for myself, but the ole stomach would be in knots on that drive! Well, Niko Brothers made the 10-hour journey home to South Carolina without incident, simply amazing! And for a follow-up video on this C8 check out their channel.
We often have vibrant discussions on our Facebook page and I'd love to hear your comments, would you have spent nearly $60,000 on this flooded 2021 Convertible 3LT C8? Even better, would you buy one after a flipper "fixed" her up only to charge more than wholesale? Looking forward to hearing from you, Douglas B.
If you need more suspense (and torture) for the day, this bonus video is especially painful to watch.