From Sports Car to Super Car to Mid-Engined Marvel, Here Are The Fastest & Most Powerful Production Corvettes Of All Time
While each-generation of Corvette has demonstrated incredible advances in performance and handling, the past twenty years has seen the Chevy Corvette evolve from a largely overlooked American muscle car into a true, world-class super-car.  Since the introduction of the LT1 and LT4 powerplants in the fourth-generation model, the engineers behind the Corvette has improved the car's power and performance output with each successive generation.
The fifth-generation Corvette re-introduced the Z06 Corvette platform to the world.  It was the first model to cross the 400 horsepower threshold since the big-block models from the late sixties and early seventies, and it became the fastest production Corvette up to that point in time.  By the time the sixth-generation was introduced in 2005, Corvette had already won at Le Mans three times – in 2001, 2002 and 2004.  The sixth-generation Corvette catapulted the brand from sports car to super car status first with the introduction of the 505 horsepower Z06 in 2007 and then the 638 horsepower ZR1 Corvette in 2009.
The arrival of the seventh-generation saw even higher performance numbers than those showcased by the C6 generation.  The 2014 Corvette Stingray (base) was rated at a healthy 455 horsepower and 460 lb/ft of torque. When the 2015 Z06 was introduced a year later, Chevrolet unveiled an all-new LT4 engine that produced an astounding 650 horsepower and 650 lb/ft of torque.  Finally, in 2019, Chevrolet re-introduced the Corvette ZR1, a monster of a car which delivers 755 horsepower and 715 lb/ft of torque.
Clearly, Chevrolet has continued to push the envelope of speed and performance with each iteration of their beloved sports car.  With a mid-engine Corvette just around the corner, it's anyone's guess as to what the next-generation of the brand has in-store for consumers and enthusiast alike.  However, we believe it's a reasonable assumption that the mid-engine Corvette – the "Z0ra" (as many believe it will be called) – will cross the 1,000 horsepower mark, making Corvette one of the most powerful production cars of all time.
In the meantime, we thought it would be fun to take a closer look back at some of the fastest production Corvettes to date as we prepare to celebrate the arrival of a mid-engine Corvette later this year.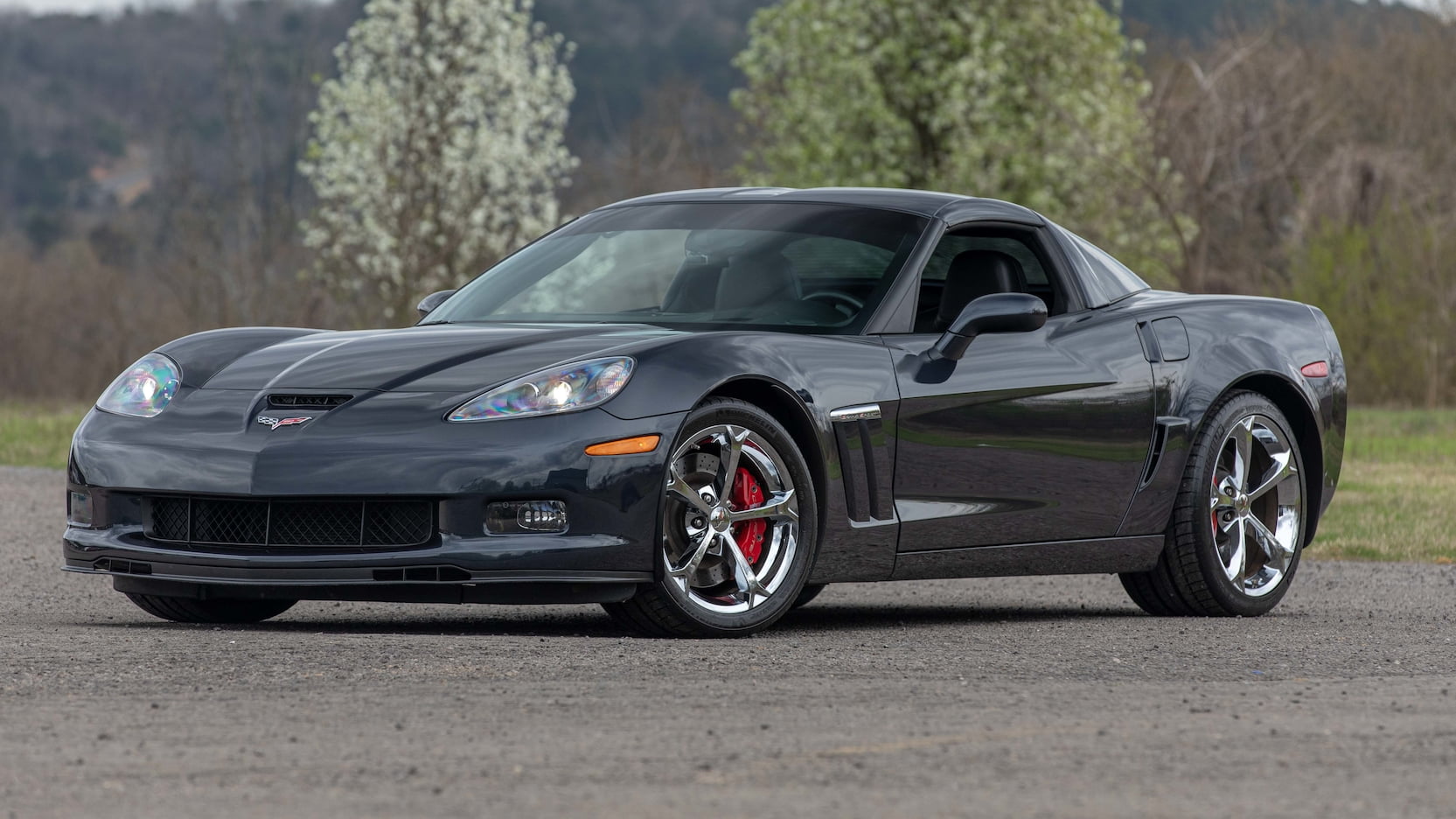 The C6 Corvette Grand Sport Coupe
Power: 430 HP / 0-60mph: 4.0 seconds / Top Speed: 190 mph
When Chevrolet first introduced the Corvette Grand Sport Coupe in 2010, there were some who questioned the company's decision to introduce another variant of the C6 platform, especially given that they'd just introduced the ZR1 a year earlier.  However, Chevrolet was smart enough to recognize that the Grand Sport would provide consumers with a more-affordable variant of the sports car that blended the styling and handling of the Z06 coupe with the more practical, but still powerful engine platform of the base-model Corvette.
The Grand Sport Corvette came equipped with a 6.2-liter V8 engine that produced 430 horsepower and 424 lb/ft of torque.  While the car lacked the supercharger and engine displacement of its "big brothers," the Grand Sport could still jump from zero to 60 miles per hour in just four seconds flat and reach a top speed of 190 miles-per-hour.
Many automotive critics argued that the Grand Sport was "slightly more enjoyable" than the ZR1 on public roads, and its power was more usable.  While the ZR1 produced rubber-melting horsepower, the Grand Sport balanced power and handling in a way that allowed drivers an exhilarating driving experience that was more manageable.  More than that, the car's steering was razor-sharp, and the car's brakes and suspension were capable of handling even the most extreme driving conditions.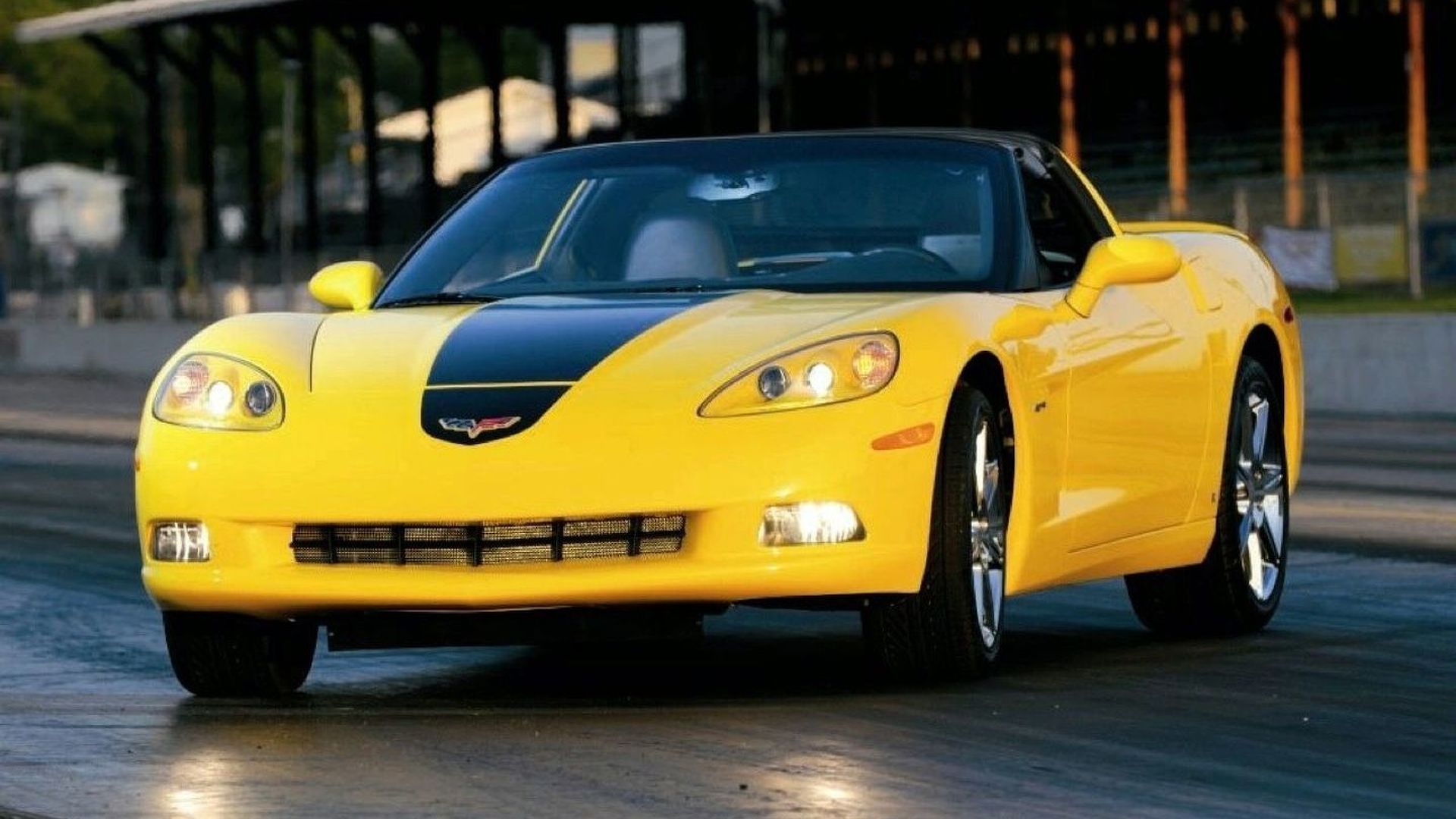 2008 – 2009 Hertz Corvette ZHZ (436 HP)
Power: 436 HP / 0-60mph:  4.3 seconds / Top Speed: 190 mph
Built exclusively for Hertz Rental Car, the Corvette ZHZ was introduced in 2008 as part of Hertz's "Fun Collection," a group of rental vehicles made up of cars like the Ford Mustang, the Nissan 350Z and the Shelby GT-H.  Equipped with a 436-horsepower, 6.2-liter LS3 V8 under its hood and paddle-shift automatic gearbox, this Chevy Corvette was a formidable machine, providing drivers with the opportunity to affordably rent a car capable of near super-car performance.
Hertz recognized the special attraction many automotive enthusiasts had to the Chevy Corvette, and so they partnered with General Motors to add 500 of the ZHZ Corvettes to their fleet.  These cars were distributed among 24 major metropolitan cities across 14 states and Washington D.C.  Each of the 500 cars were finished in Velocity Yellow (which is remarkably similar to Hertz's iconic yellow) paint with a single, black, center-stripe that ran the length of the car. It featured a dual-mode exhaust system, magnetic selective ride control with "tour" and "sport" settings for a customized ride, and specific 18-inch front and 19-inch rear chrome seven-spoke performance wheels.  The ZHZ's exhaust system was specifically selected to provide enthusiasts with a more aggressive exhaust note.
In 2009, Hertz added an additional 300 ZHZ Corvette convertibles to the fleet, resulting in a total of 800 ZHZ Corvettes available to enthusiasts throughout the United States. Both the coupe and the convertible promised renters an exhilarating driving experience, boasting a zero-60 acceleration of just 4.3 seconds and a top speed of 190 miles per hour.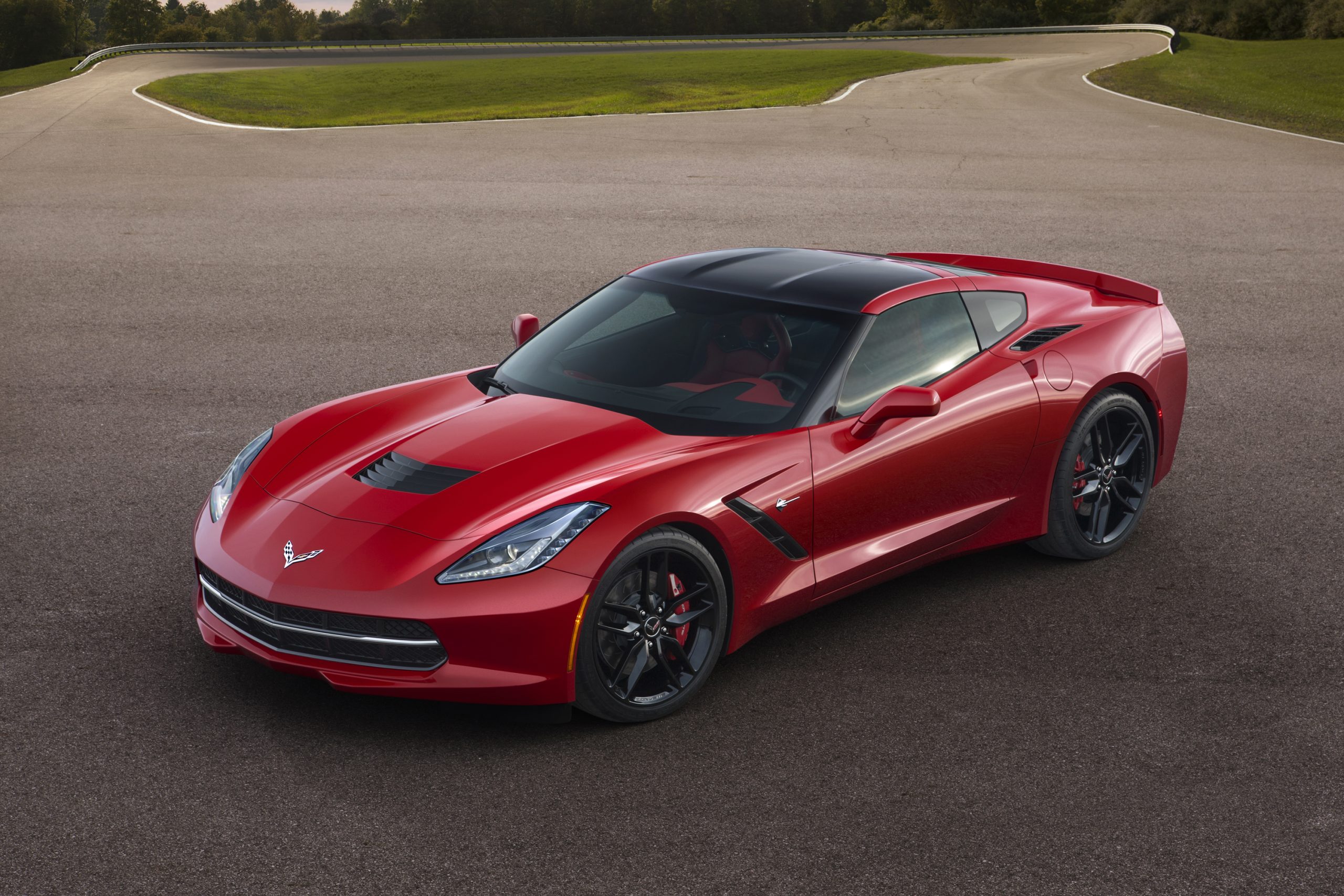 C7 Corvette Stingray Z51
Power: 460 HP / 0-60mph: 3.8 seconds / Top Speed: 184 mph
When the C7 Corvette Stingray was first introduced in 2013, it was immediately identified as being one of the most powerful, well-engineered Corvettes in the history of the brand. The car, which featured "race-inspired technology," was considered the crowning achievement of decades long research by engineers both on-and-off the racetrack. It features the LT1, a 6.2L V8 engine which produces 460 horsepower and 465 lb-ft of torque. The car was capable of a zero-60 time of just 3.8 seconds and a top-speed approaching 200 miles per hour.
Yet, as good as the Corvette Stingray was straight-out-of-the-gate, Chevrolet knew they could make it even better – but at an added cost. For enthusiasts who wanted to transform their new Stingrays into a truly track-capable race car, Chevrolet offered consumers the optional Z51 performance package. The package, which added $2,800 to the cost of the base model, offered consumers the following options/upgrades:
Larger wheels (19-inch front and 20-inch rear) with dual-compound Michelin tires
A dry sump oil system
A transmission-cooling system
A unique Aero Package
Larger front brakes (with black calipers) and slotted brake rotors
Springs, shocks, and stabilizer bars (built specifically for the Z51)
An electronic limited slip differential
Performance gear ratios
Chevy's car designers developed the Stingray's suspension and chassis to make the most of the vehicle's lighter, stiffer build. Because of this, Corvette owners gained a level of performance and driving exhilaration that was normally limited to the racetrack.  The package gained so much popularity that it has become one of the most commonly purchased upgrades on any seventh-generation Corvette.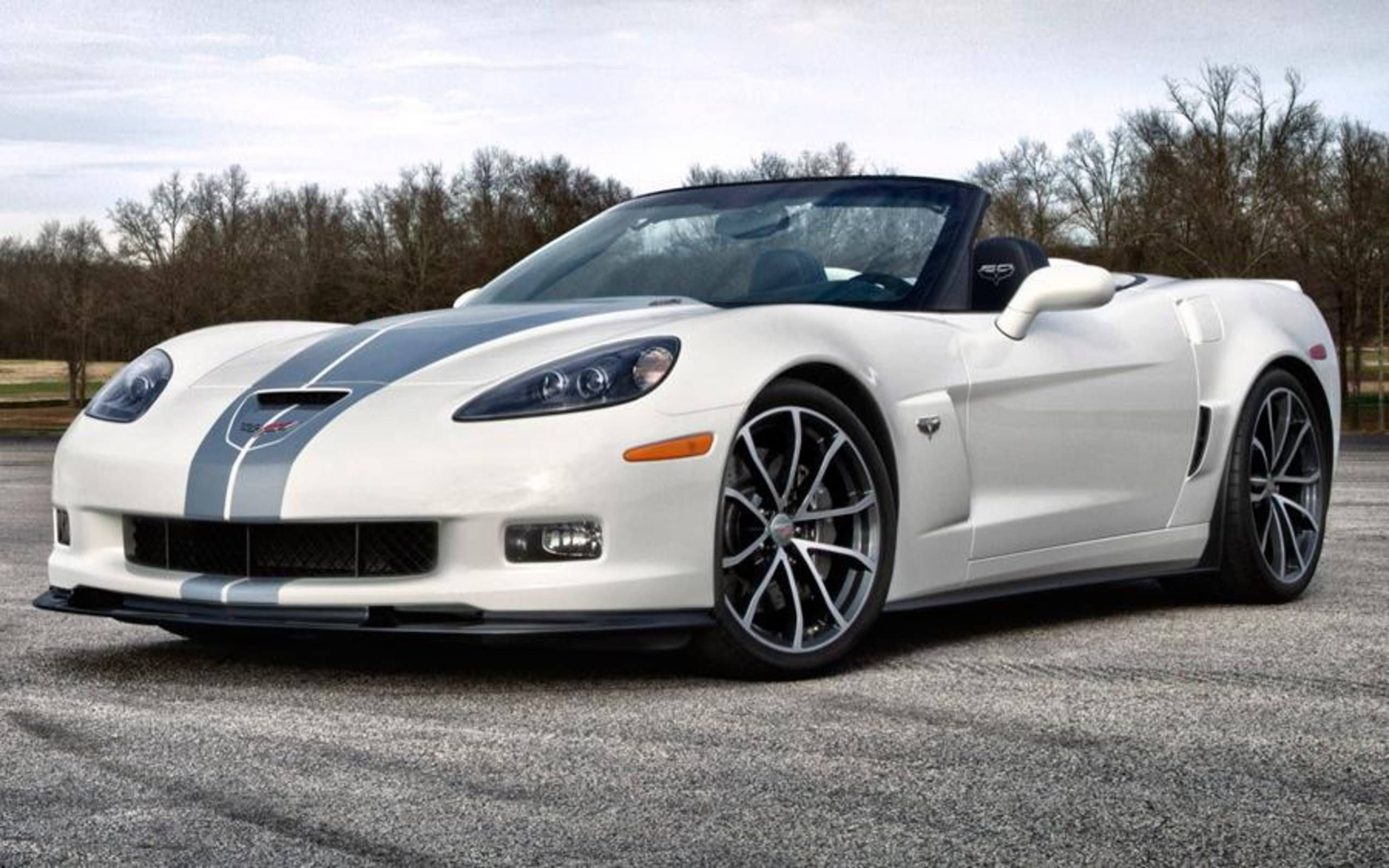 2013 Corvette 427 Convertible Collector Edition
Power: 505 HP / 0-60mph: 3.8 seconds / Top Speed: 190 mph
The 2013 model year will be historic for Corvette, marking its 60th Anniversary and the final year for the current 'C6' generation… We couldn't think of a more fitting way to celebrate these milestones than bringing back one of the most-coveted combinations in the brand's history – the Corvette convertible and a 427 cubic-inch engine. – Chris Perry, Vice President, Global Marketing and Strategy for Chevrolet.
In 2013, Chevrolet introduced the Corvette 427 Convertible Collector Edition both to celebrate Corvette's 60th anniversary as well as to give the C6 a proper send-off.  The 427 Convertible Collector Edition blended elements of both the Z06 and ZR1 models to create the fastest convertible in the brand's history. The car featured an LS7 7.0L engine that was rated at 505 horsepower (377 kW) and 470 lb.-ft. of torque (637 Nm).  It was the most powerful engine ever installed in a production Corvette convertible.  Additionally, all 427 Convertible Edition Corvettes featured a six-speed manual transmission.
The 427 Convertible included the driveline and rear axle system from the C6 Corvette Z06.  It came equipped standard with Magnetic Selective Ride Control.  Standard wheels on the car included 19-inch fronts and 20-inch rears wrapped in zR-1 style Michelin PS2 tires. This 2013 Collector Edition Corvette also featured several carbon-fiber components that helped to reduce the car's overall weight, including:
A Carbon fiber raised hood (first introduced on the 2011 Z06 Carbon Edition)
Carbon fiber Z06-style fenders
Carbon fiber floor panels
Optional carbon fiber front splitter and rocker panels.
The weight reduction brings the 427 Convertible's curb weight down to 3,355 pounds (1,522 kg.)  Combined with the car's 505-horsepower LS7 engine, the 427 Convertible has a power-to-weight ratio of 6.64.  This translates into one horsepower for every 6.64 pounds of vehicle mass.  That's a better power-to-weight ratio than the Audi R8 Spyder and the Ferrari California.  The combination of low mass and high power output made the 427 Convertible one of the fastest convertibles in the world (up to that time.)  The car delivered a zero to 60 time of just 3.8 seconds, a quarter-mile time of 11.8 seconds and at top speed of 190 miles per hour.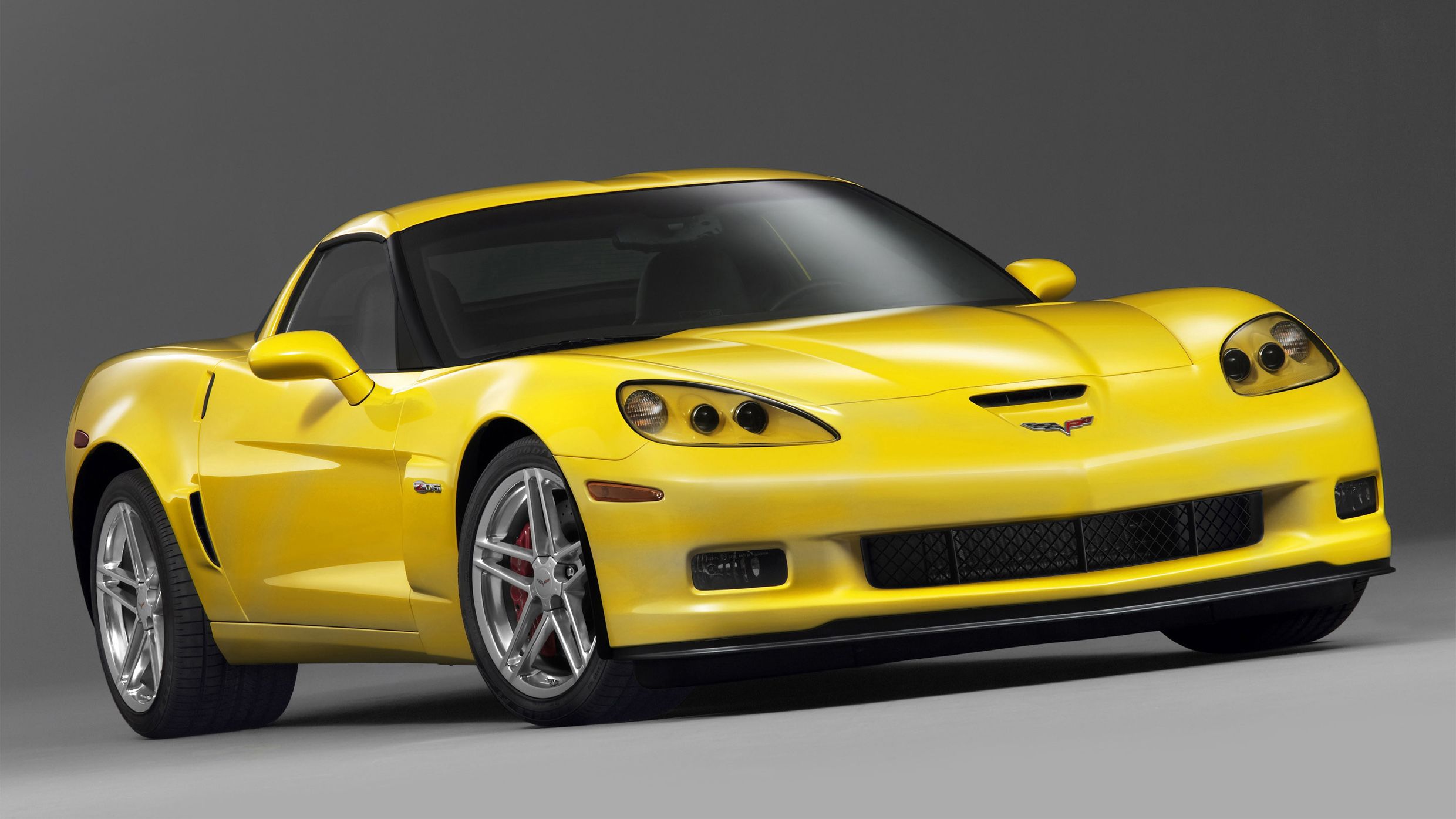 C6 Corvette Z06
Power: 505 HP / 0-60mph: 3.7 seconds / Top Speed: 198 mph
When introduced in 2006, the Corvette Z06 was marketed as a dual-purpose sports car that was equally comfortable being used as a daily driver or for weekends at the race track.  It's race-inspired powertrain and suspension, along with its all-aluminum frame and carbon fiber fenders and floor panels helped make it one of the lightest, best balanced Corvettes in the history of the brand.
The C6 Z06 Corvette featured the 505 horsepower LS7 engine.  That power, combined with a curb weight of just 3,199 pounds, helped propel the car from zero to 60 miles per hour in just 3.7 seconds in first gear.  Moreover, the car ran a quarter-mile time of just 11.7 seconds at 125 miles per hour and could achieve a documented top speed of 198 miles per hour.
The car's on-track capability was bolstered with the addition of a Z07 performance package, which featured specific springs, shocks and stabilizer bars, larger cross-drilled brake rotors, special fluid coolers for the engine oil, transmission and power steering fluid, a six-speed manual transmission and Eagle F1 Supercar EMT Tires.  When the Z07 option was combined with the Performance Traction Management (PTM) technology package – a package which manages torque delivery for maximum performance – the special tires enabled up to an 8-percent gain in maximum lateral acceleration and improved braking distance.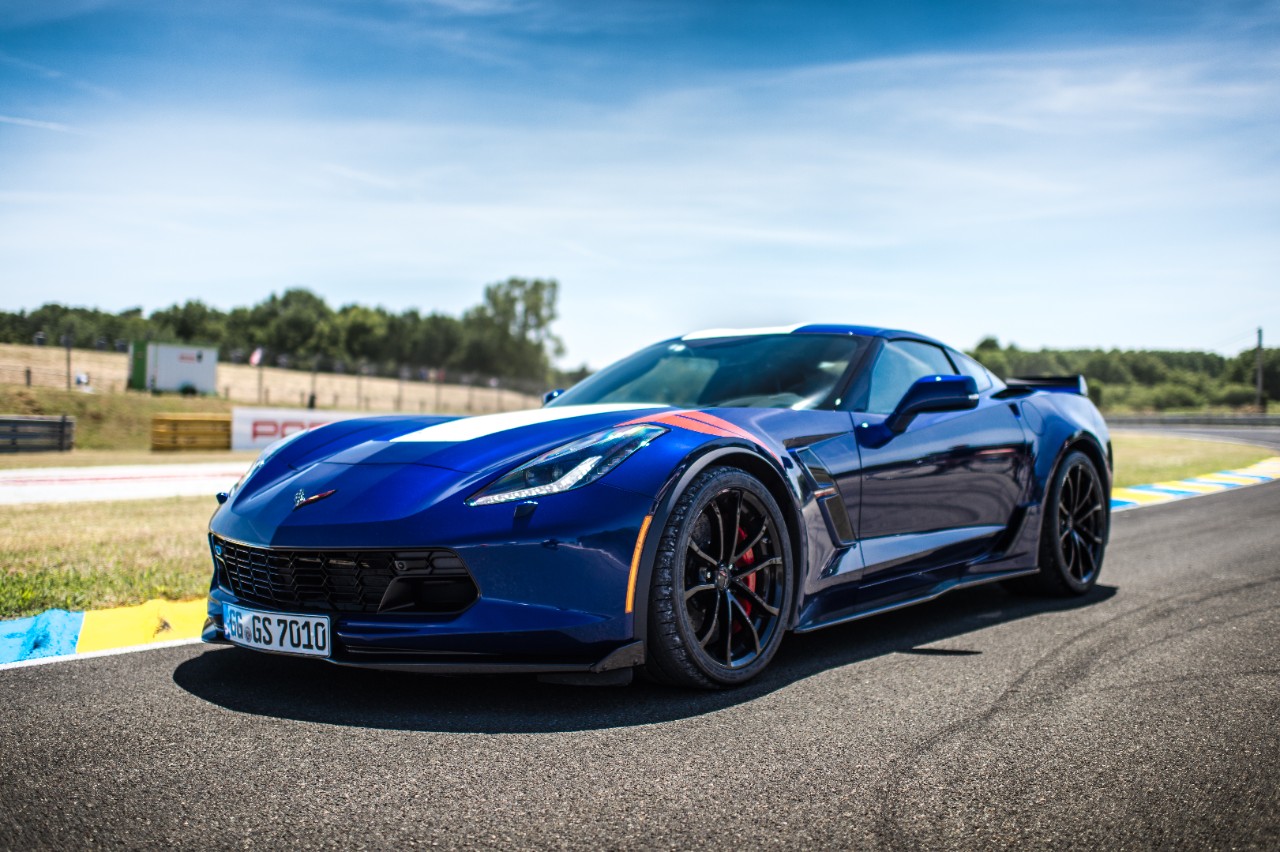 C7 Corvette Grand Sport
Power: 460 HP / 0-60mph: 3.6 seconds / Top Speed: 174 mph
The seventh-generation Corvette Grand Sport was developed by Chevrolet as a true, track capable sports car.  The intent behind the car was to develop a Corvette that was a "pure expression of the car's motorsports-bred pedigree." The C7 Corvette Grand Sport featured a lightweight architecture, a track-honed aerodynamics package, Michelin tires and a naturally aspirated LT1 6.2 liter V8 engine rated at 460 horsepower.  Heritage-inspired design cues and exclusive features – such as the double hash decals on the driver's front fender – paid homage to the earlier Grand Sport models that came before it.  Additionally, the car shared many of the aerodynamic components found in the C7 Z06 package.
The C7 Corvette Grand Sport is capable of a zero-60 time of just 3.6 seconds and a quarter mile time of 11.8 seconds at 118 miles per hour.  It should be noted however that these times/speeds could only be achieved when the car was equipped with the available paddle-shift eight-speed automatic transmission.  The C7 Grand Sport Corvette also inherited the Brembo braking system which had been previously introduced on the C7 Corvette Z06.  So equipped, the new Grand Sport can decelerate from 60-zero miles per hour in  less than 100 feet!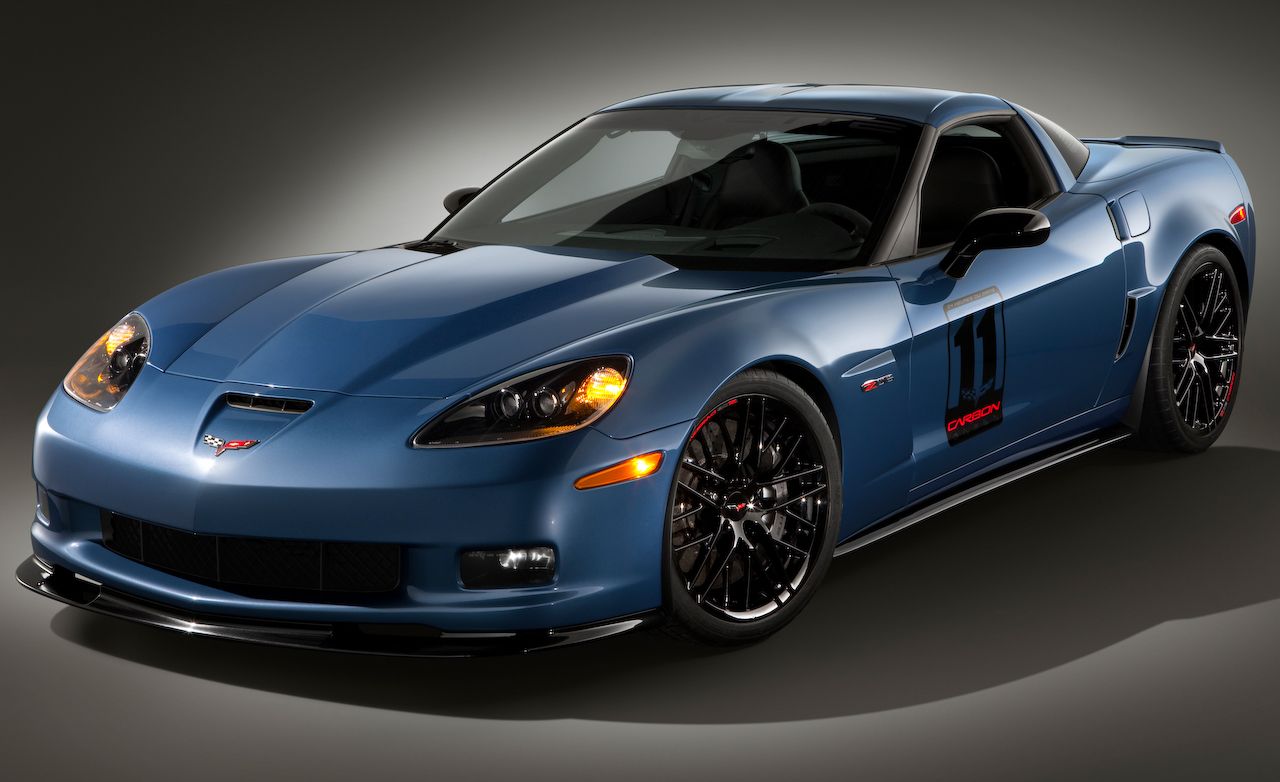 C6 Corvette Z06 Carbon Edition
Power: 505 HP / 0-60mph: 3.7 seconds / Top Speed: 198 mph
To commemorate the 50th anniversary of of the Corvette first competing in the 24 Hours of Le Mans, Chevrolet introduced the special-edition Z06 Carbon Limited Edition Corvette in 2011.  Although Chevrolet had already introduced the ZR1 as the fastest and most advanced of its Corvette paddock, the Carbon Limited Edition Z06 was quickly identified as the best balanced, most track-capable car of the sixth-generation lineup.
Like all sixth-generation Z06 Corvettes, the Carbon Fiber Edition has a 505 horsepower, 7.0-liter V8 under its hood.  However, the Z06 Carbon was specifically positioned by Chevrolet to "bridge the gap" between the Z06 and the ZR1.  The Z06 Carbon Edition featured the ZR1's 15-inch carbon-ceramic brakes, driver-adjustable magnetorheological shocks, black 19-inch front and 20-inch rear wheels and Michelin Pilot PS2 Rubber.   The car also featured carbon-fiber ZR1 rocker extensions, a carbon-fiber ZR1 front splitter, a raised carbon-fiber hood, a carbon roof panel, and a body-color, full-width rear spoiler.
The Carbon Fiber Z06 was limited to just two colors – Supersonic Blue or Inferno Orange, and each came with a special numbered door decal. Interestingly, GM claimed that the Carbon Z06 was lighter than its standard Z06 counterpart, but because it contained more robust equipment, it still weighed in at about 3,150 pounds, which is virtually the same as all other Z06 models.  Still, the Carbon Zo6 was approximately 200 pounds lighter than the ZR1.  Moreover, because of the added grip and stability offered in the car's included gear, the Carbon proved to be a full three seconds faster than the standard Z06 around the Mazda Raceway Laguna Seca in California.
However, the most compelling truths about the Z06 Carbon Edition are in the performance numbers.  The Carbon was able to accelerate from zero to 60 in just 3.7 seconds, and ran a quarter mile in 11.6 seconds at a speed of 123.6 miles per hour.  When compared to the ZR1's performance numbers (below), it's worth noting that the Z06 Carbon Edition Corvette was a worthy contender for those looking for similar performance without the added cost of a ZR1 Corvette.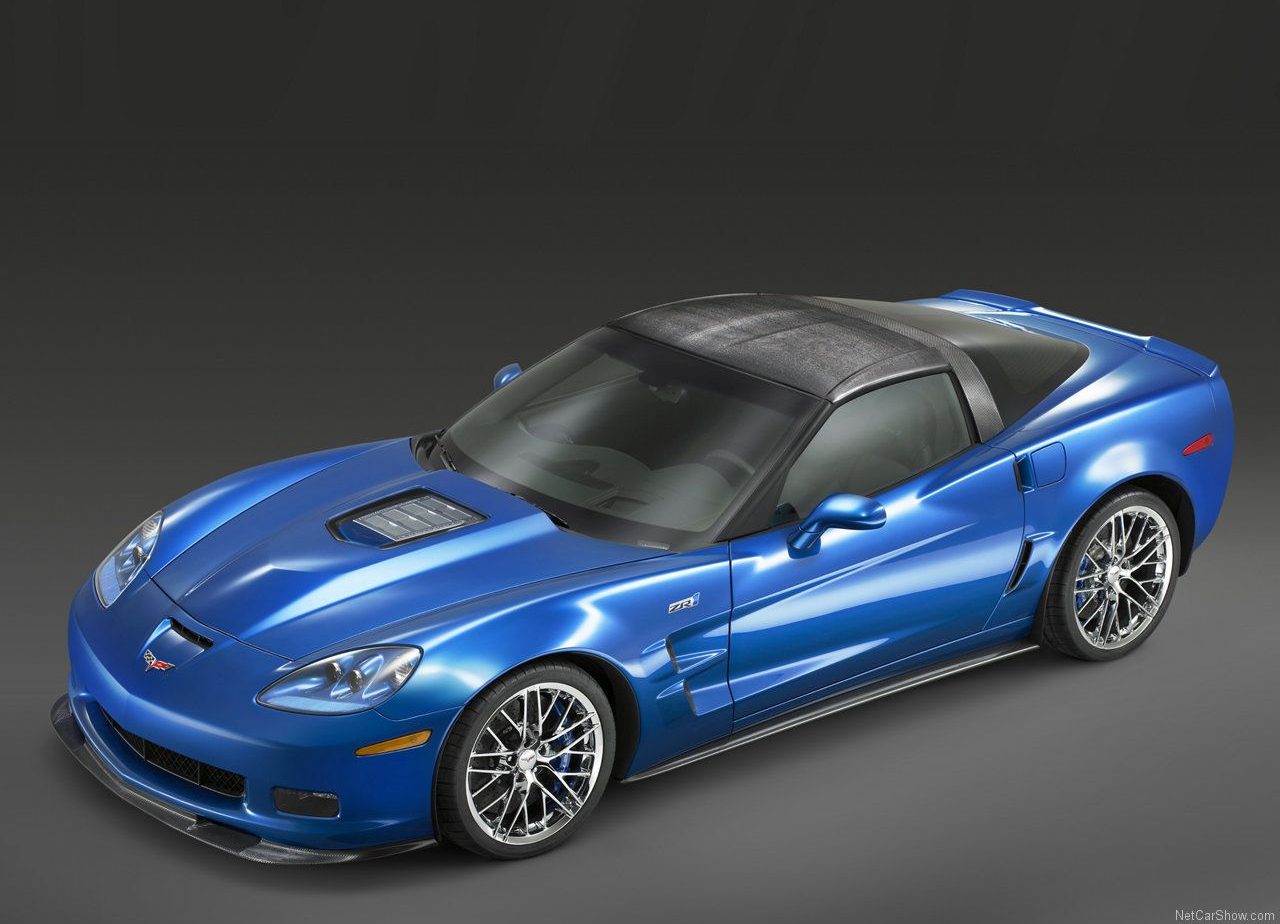 C6 Corvette ZR1
Power: 638 HP / 0-60mph: 3.3 seconds / Top Speed: 205 mph
"Chevrolet's goal with the new ZR1 is to show what an American supercar can deliver, at a price that trumps exotics that cost two, three or four times as much – and does so with exceptional driveability,"- Ed Peper, Chevrolet General Manager.
Originally introduced by Chevrolet in 2009, the Corvette ZR1 was designed and marketed as "an American supercar that brings the technology and engineering refinement of carbon-fiber, ceramics and electronics together in a distinctive design."  The intent of building the ZR1 was to deliver an automobile to consumers that could outpower exotics (such as Ferrari, Lamborghini, etc.) that cost two, three or four times as much.
Powering the ZR1 Corvette was an all-new LS9 6.2L small-block engine equipped with a large positive-displacement Roots-type supercharger that featured a new, four-lope rotor design.  The supercharged LS9 engine produced a monstrous 638 horsepower, and approximately 604 lb/ft of torque.  The LS9 was mated to a six-speed manual transmission which featured a twin-disc clutch that was specifically developed to provide exceptional clamping power while still maintaining a manageable clutch pedal for the driver.  The rear axle was also bolstered in the ZR1 and featured asymmetrical axle-shaft diameters that were developed after considerable testing to provide optimal torque management.
The car itself was built on the same aluminum chassis as the Corvette Z06.  It featured a number of specially-tuned suspension components including Magnetic Selective Ride Control.  It also came equipped standard with massive 15.5 inch (front) and 15 inch (rear) Brembo carbon-ceramic brake rotors and massive six-piston front and four-piston rear calipers. Like the Z06 Carbon Edition (listed above), the ZR1 features a number of carbon-fiber components including a raised, all-carbon-fiber hood, roof, roof-bow, rocker molding, front splitter, front fenders and a full-width, body-color rear spoiler.  The ZR1's hood includes a clear, polycarbonate window that exposes the top of the engine's intercooler, with the legend "LS9 SUPERCHARGED" embossed on both its left and right sides.  All of these elements were implemented to improve on the ZR1 Corvette's curb weight, which comes in at 3,324 pounds (1,508kg.)
While all of these elements indicate a powerful, well-engineered sports car, the real measure of the C6 ZR1 Corvette is in the performance numbers that it produces on the open road.  For starters, it has a zero to 60 time of just 3.3 seconds, and this number was achieved while battling wheel-spin in first and second gears.  In the quarter mile, the C6 ZR1 managed an 11.4 second run, which was on par with some of the fastest cars in the world at that time.  Perhaps the most impressive number of all though is the C6 ZR1's top speed, which was documented at 205 miles per hour, making it the first production Corvette to break the 200 miles-per-hour threshold.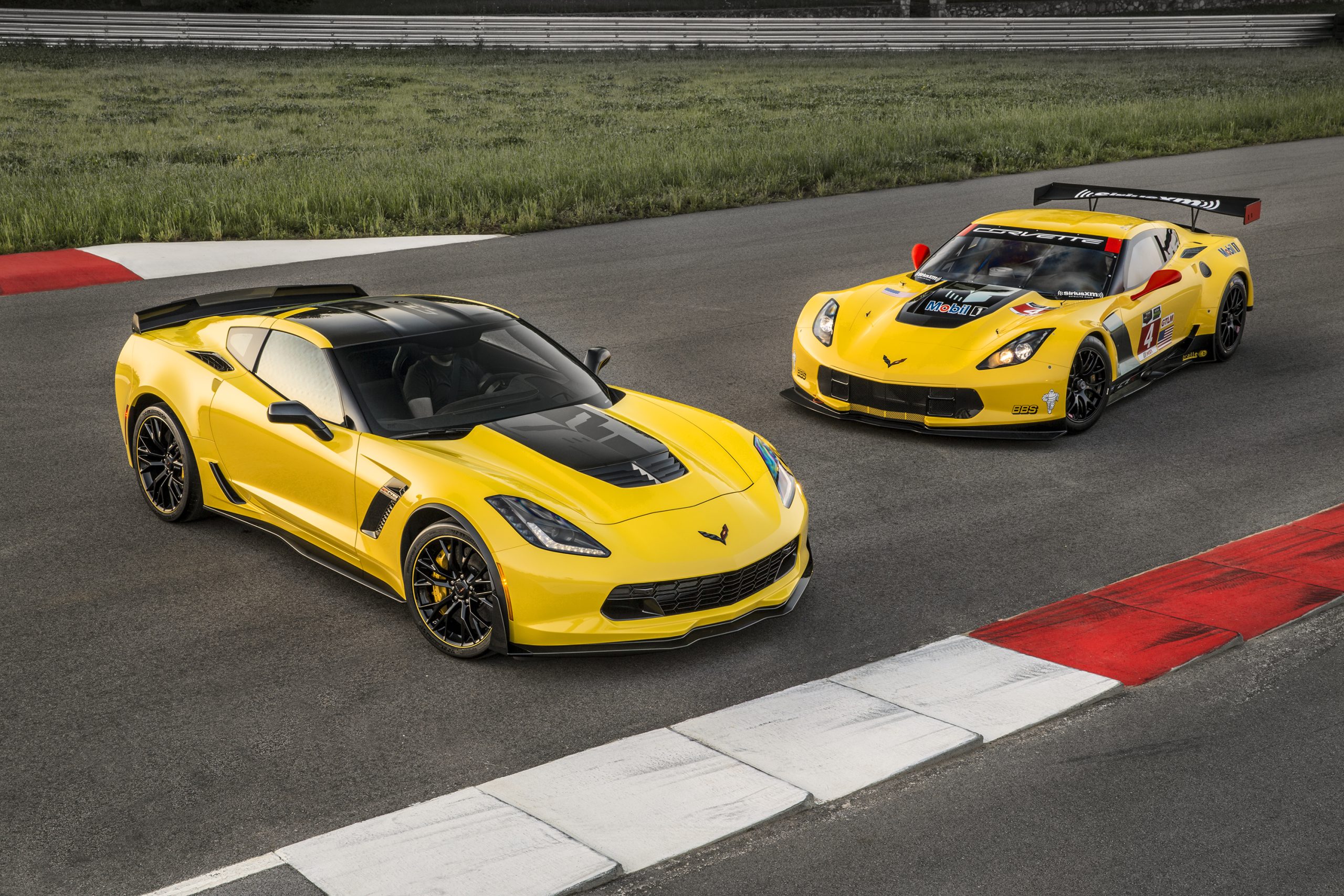 C7 Corvette Z06
Power: 650 HP / 0-60mph: 2.95 seconds / Top Speed: 196 mph
"The Corvette Z06 is a great example of the technology transfer between racing and production Corvettes.  First, we took what we learned on the Corvette Racing C6.R and applied that to the all-new Corvette Stingray. Then, using the Stingray as a foundation, the Z06 and C7.R were developed to push the envelope of performance on the street and the track." – Corvette Chief Engineer, Tadge Juechter
The Z06 rejoined the Corvette lineup in 2015 and was marketed as "the most capable model in the iconic car's 62-year history."  Developed directly in conjunction with the C7.R race car, the Z06 was developed to push the Corvette platform's performance envelope with unprecedented levels of aerodynamic downforce.  It was also the first Z06 edition Corvette to include a supercharged engine, an eight-speed automatic transmission and a removable roof panel (thanks to the development of a strong aluminum frame.)
At the heart of the C7 Z06 is the LT4 supercharged 6.2L V8 engine.  The LT4 was SAE-certified at 650 horsepower (485 kW) at 6,400 rpm and 650 lb/ft of torque (881 Nm) at 3,600 rpm.  This new platform displaced the C6 ZR1 Corvette as the most powerful production Corvette ever produced (a record that would stand until the introduction of the 2019 Corvette ZR1 (below)). When equipped with the available Z07 performance package, the Z06 is capable of:
0-60 mph acceleration in 2.95 seconds with the eight-speed automatic and 3.2 seconds with the seven-speed manual transmission
A quarter-mile times of 10.95 seconds at 127 mph with the eight-speed and 11.2 seconds at 127 mph with the seven-speed transmission
Lateral acceleration of 1.2 g
60-0 mph braking in only 99.6 feet – the best of any production car tested by General Motors.
Beyond the car's blistering fast performance numbers, another major milestone that was accomplished in the development of the C7 Z06 Corvette was that the car of the Z06 designation which was offered as both a coupe and a convertible. Per Corvette Chief Engineer Tadge Juechter: "Simply put, until recently it was not possible to create an open-roof structure strong enough to meet Corvette's highest performance levels. It required advancements in computer-aided engineering, metallurgy and manufacturing – many of which did not exist five years ago – to make a frame strong enough for a Z06 Convertible."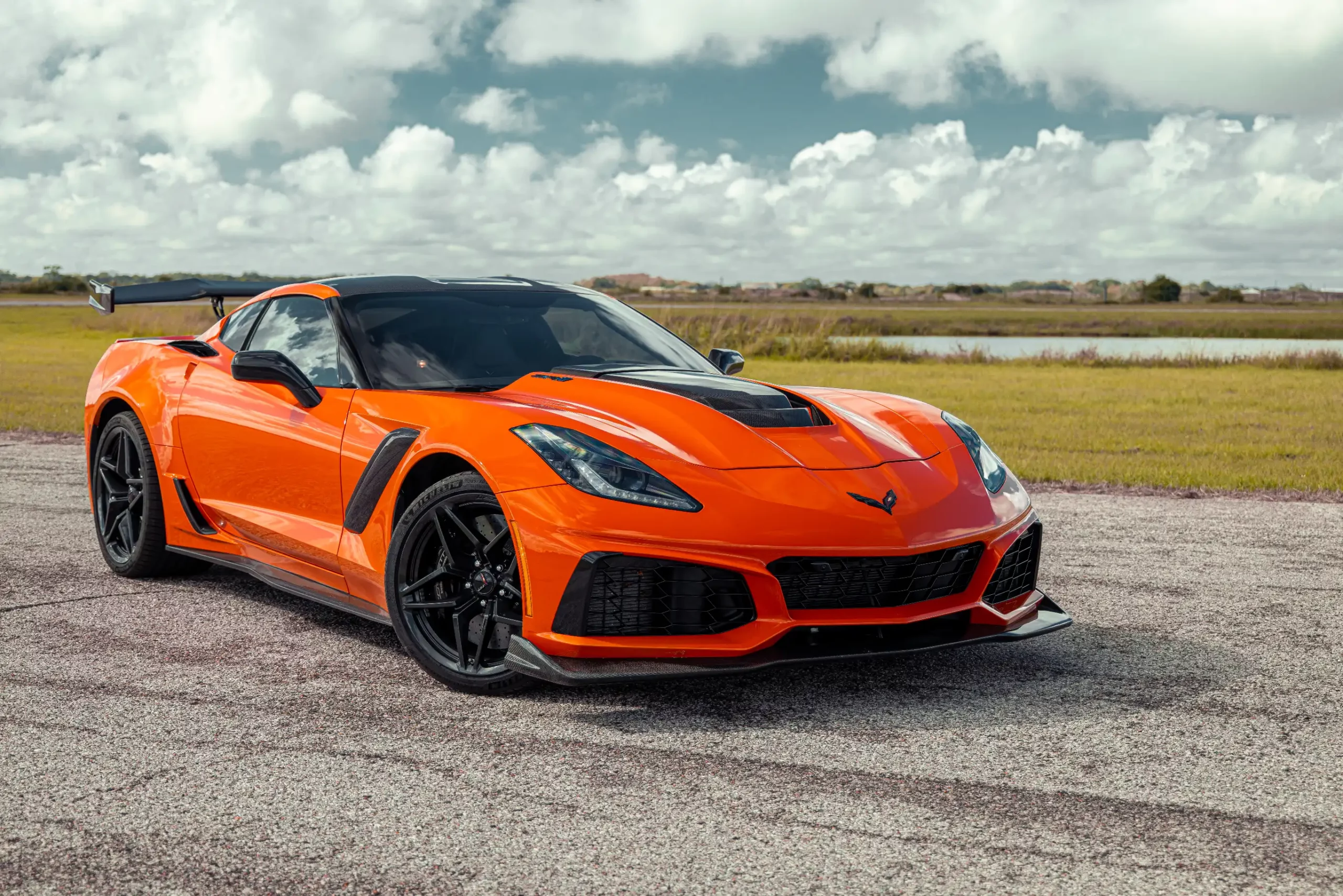 C7 Corvette ZR-1
Power: 755 HP / 0-60mph: 2.8 seconds / Top Speed: 214 mph
"I've never driven a Corvette like this before, and nobody else has either, because there's never been one like this before. Its unprecedented performance puts all other global supercars on notice that the ZR1 is back." – Mark Reuss, executive vice president, Global Product Development, Purchasing and Supply Chain.
On November 12, 2017, Chevrolet officially unveiled the all-new 2019 Corvette ZR1, a variant of Chevrolet's beloved sports car that pushes Corvette's performance to unprecedented levels of power, track performance and technology.
The Corvette ZR1 features an LT5 6.2L V-8 supercharged engine which dramatically advances the supercharging technologies first introduced in the 2009 sixth-generation Corvette ZR1 and continued with the 2015 seventh-generation Z06 Corvette. The engine, which is officially rated with an SAE-certified 755 horsepower (563 kW) and 715 lb-ft of torque (969Nm), establishes an entirely new benchmark in Chevrolet performance.
The ZR1 comes equipped with GM's first-ever dual-fuel-injection system, which utilizes primary direct injection and supplemental port injection.  This balanced combination of fuel injection further facilitates the LT5's ability to achieve record power output.  On top of that, the LT5, despite its massive power output, also manages to produce a respectable fuel economy (given the size and intent of the powerplant) – 15 city/22 highway when equipped with a 7-speed manual transmission or 13 city/23 highway when equipped with an 8-speed automatic.
This power translates to some truly spectacular performance numbers.  Under the control of a professional GM Performance Driver, the 2019 Corvette ZR1 acheived a zero to 60 time of just 2.8 seconds, a quarter mile time of 10.1 seconds at 124 miles per hour, a standing mile at 190 miles per hour (with the rear spoiler removed from the car) and a top speed of 214 miles per hour!!  Equally compelling is that, when braking from a speed of 214 miles per hour, the ZR1 came to a dead stop in just 8.17 seconds.  Running in stock trim, the ZR1 also completed a 24 hour run at Virginia International Raceway, stopping only for fuel and tires.  During this run, the ZR1 accidentally set another production car lap record, completing a lap around VIR 1.37 seconds quicker than the new Ford GT, which had set the track record just one week earlier.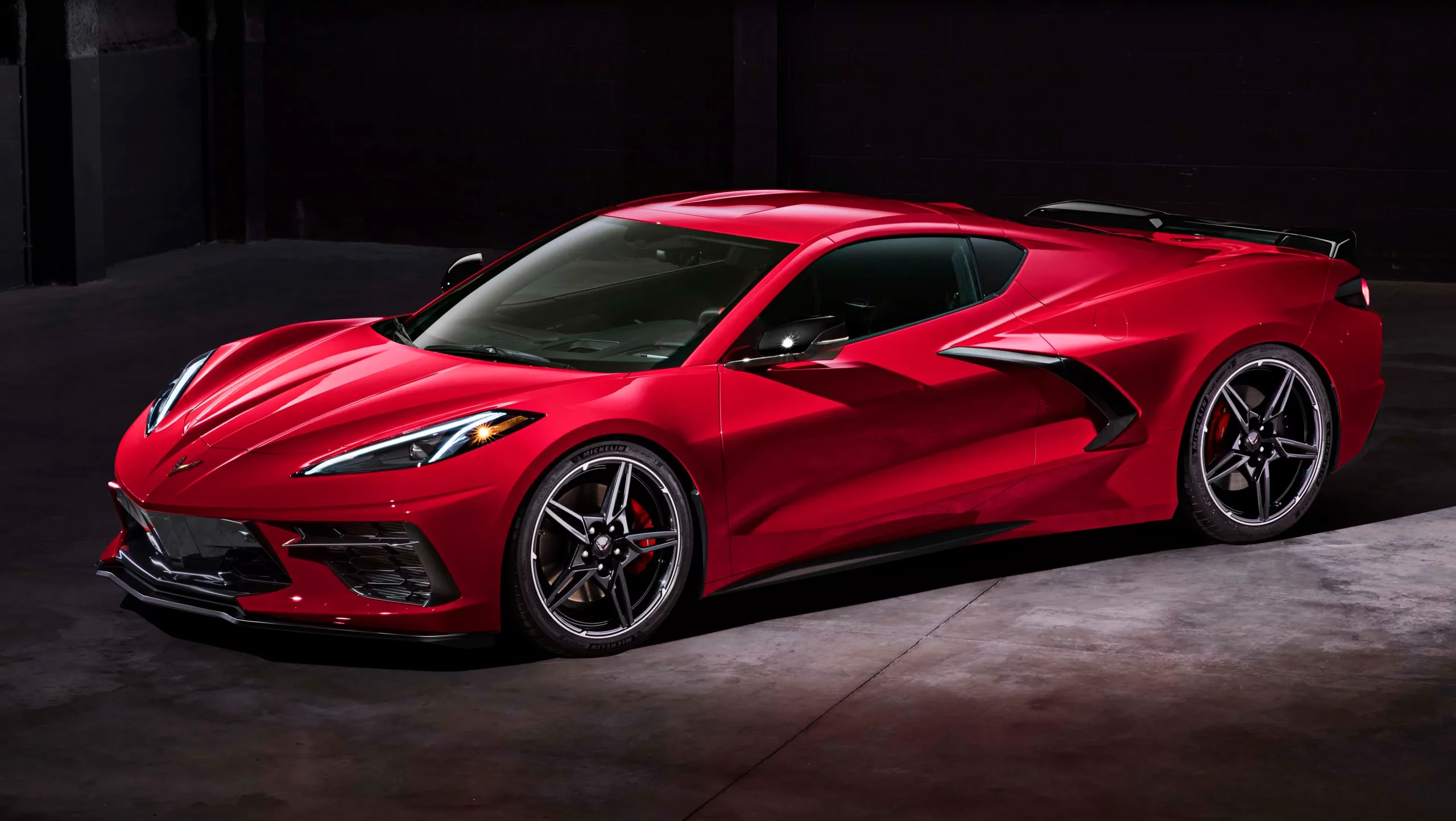 C8 Corvette Stingray Z51
Power: 495  HP / 0-60mph: 2.8 seconds / Top Speed: 184 mph
With supercar performance, an affordable price tag, and flashy styling, the 2023 Chevrolet Corvette honors the nameplate's decades-old status as an automotive icon—but with a mid-engine twist. The current C8 is the first generation to have its naturally aspirated V-8 engine mounted behind the passenger compartment, which boosts Chevy's halo sports car into the realm of exotic machinery. Its sharp handling and explosive acceleration are a match for sports cars costing tens of thousands more, but it's also comfortable and refined enough to drive cross-country. The C8 is offered as both a convertible and a coupe, and the hardtop model has a roof panel that can be lifted off to allow the sun to shine in. Its cabin is cozy but comfortable, and there's adequate trunk storage for groceries or luggage, making the Corvette an easy sports car to live with on a daily basis.
Although the engine is in a new location—now behind the passenger compartment instead of in front of it—it remains a 6.2-liter V-8, albeit one making 490 horsepower and 470 pound-feet of torque. With the dual-mode performance exhaust that is part of the Z51 package, it makes 495 horsepower. The Z51 option also adds an electronic limited-slip rear differential, more aggressive brakes, and summer tires. An eight-speed dual-clutch automatic (a Corvette first) is the sole transmission. It is controlled by a push-button gear selector on the center console or two large steering-wheel-mounted shift paddles. A manual transmission is not available. In our testing, we recorded a zero-to-60-mph time of 2.8 seconds and the quarter-mile in 11.2 seconds at 122 mph in a car equipped with the Z51 performance package and the optional FE4 magnetorheological dampers. We managed a braking distance of 149 feet from 70 mph and recorded 1.03 g's on the skidpad. Even in base form, however, the new Corvette is capable of heroic handling and delivers big thrills on both road and track.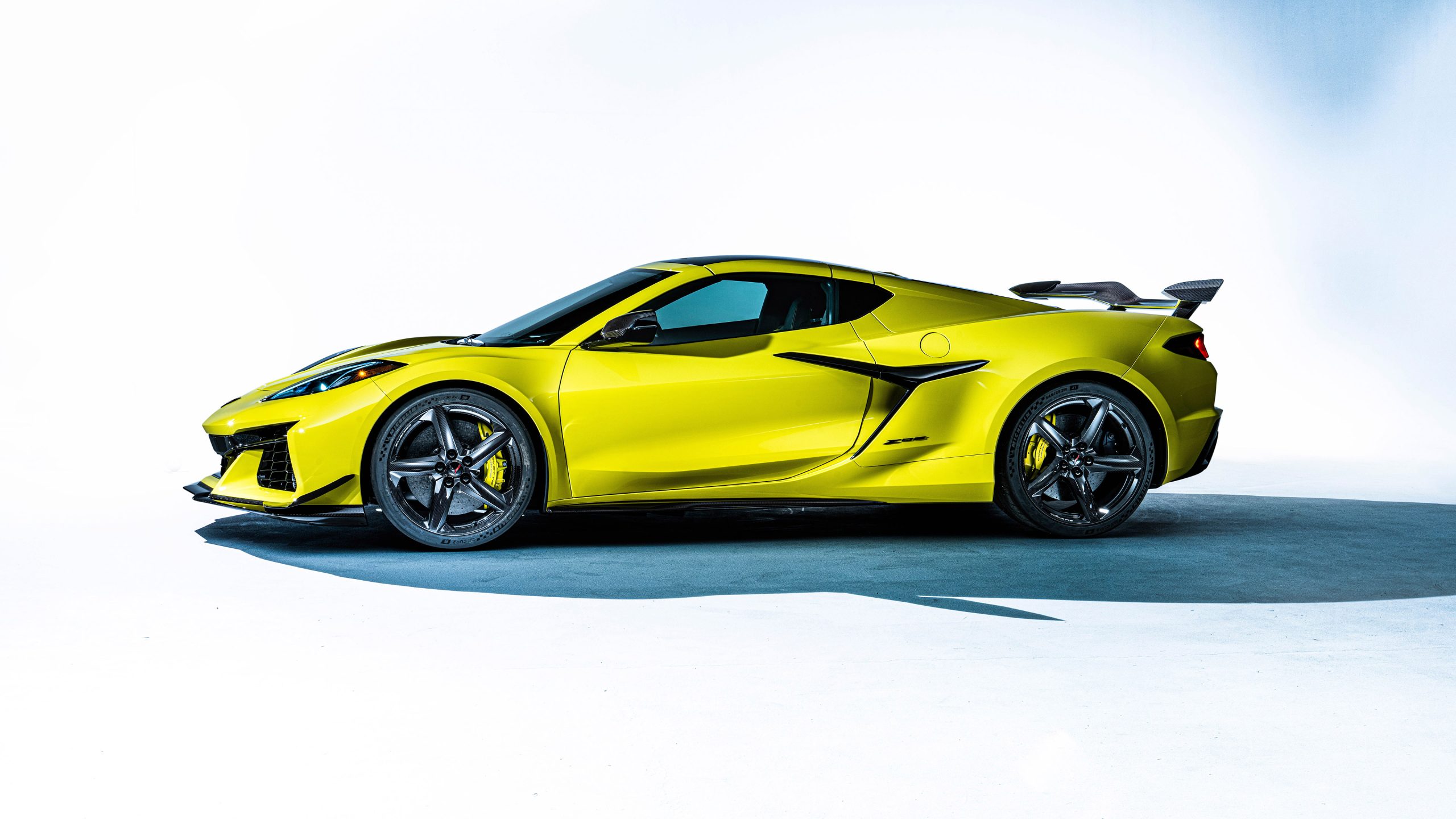 C8 Corvette Z06
Power: 670 HP / 0-60mph: 2.7 seconds / Top Speed: 189 mph
The 2023 Z06 was designed and engineered to be a "precision tool" for the race track. While the DNA of every modern Corvette evolved from its racing car heritage, the new Z06 has blurred the lines between street car and race car to such an extent that it is hard to decide which environment this car is best suited for. Everything about this car – from its outward aesthetic, to its wider front and rear fascias, its exotic proportions, and its luxuriously appointed interior – all state unequivocally that the 2023 Z06 is not just a Corvette – but a car thats fully capable of holding its own in the supercar stratosphere.
"Corvette has always brought a discerning customer to the Chevy family," said Steve Hill, vice president of Chevrolet. "This new Z06 was designed and engineered to set a higher bar with increased levels of craftsmanship, personalization and performance so customers can truly have their own bespoke performance car."
An all-new 5.5L LT6 engine sits at the heart of this beast. Rated at an incredible 670 horsepower, this NATURALLY ASPIRATED V8 is the most power engine of its kind to be introduced in ANY production car….EVER. The LT6 features an all-new, lightweight, flat-plane crankshaft designed to rev the engine to a staggering 8,600 rpm. It's at this point that the engine hits its peak horsepower. Where past iterations of the Z06 relied heavily on superchargers to achieve this level of horsepower, Chevrolet's engineers recognized an opportunity to return to a naturally aspirated engine without compromising horsepower or responsiveness. In fact, engine responsiveness and trackability were both identified as top priorities for the eighth-generation Z06.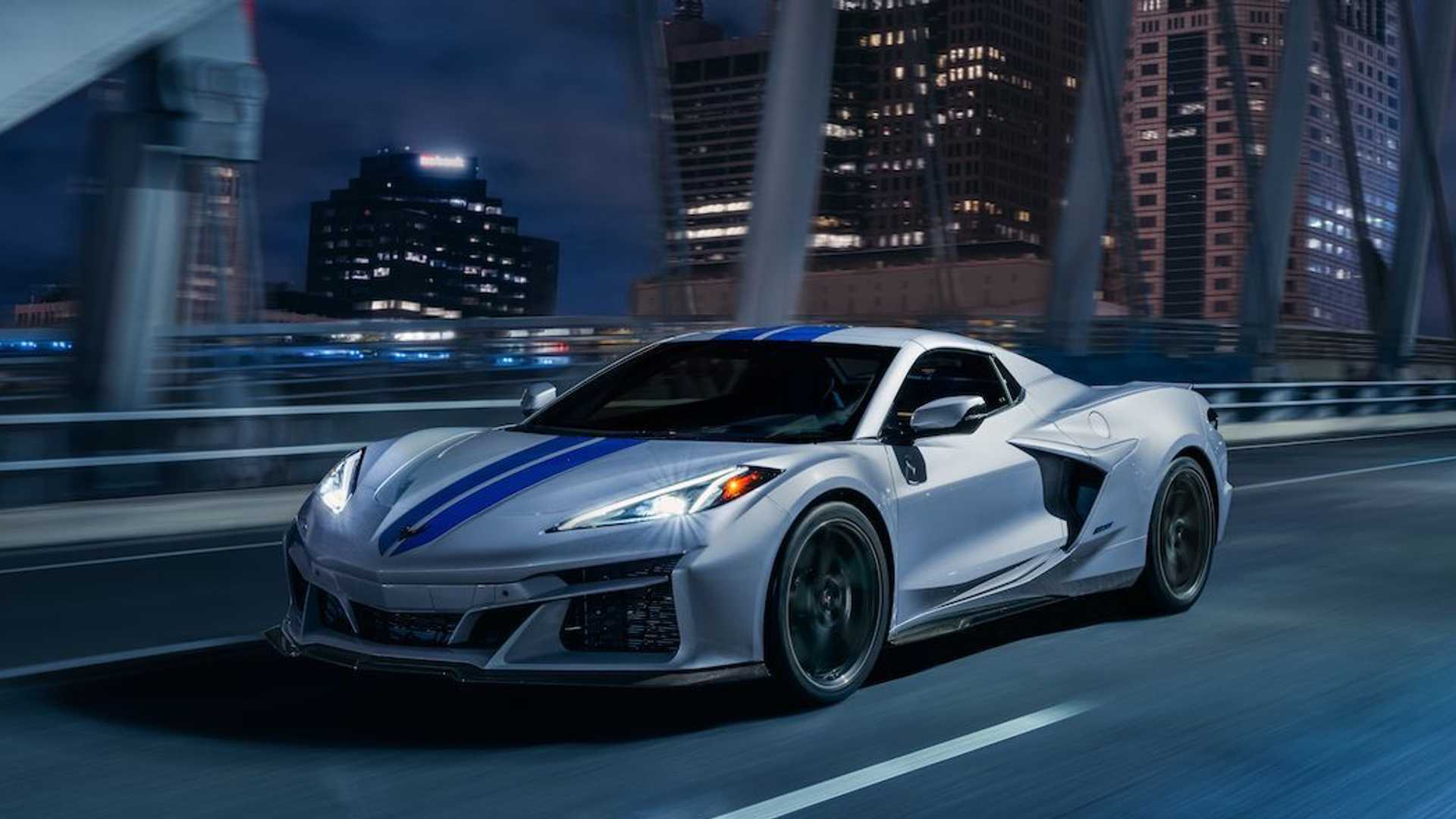 C8 Corvette E-Ray
Power: 655 HP / 0-60mph: 2.5 seconds / Top Speed: 180 mph
The C8-generation Vette debuted in 2020 with a mid-engine layout and the exotic-car proportions that go with it, and now this new E-Ray brings a hybrid powertrain that promises to push performance further with electrons. An electric motor powers the front wheels while the C8's standard 6.2-liter LT2 pushrod V-8 is on duty out back. Together they develop 655 combined horsepower, which means the all-wheel drive Corvette E-Ray is within 15 horsepower of the range-topping Z06. In addition to that, the E-Ray features a Stealth driving mode that lets you sneak in and out of your neighborhood on silent electric power without waking the neighbors. The E-Ray is a new entry for Chevrolet this year and its hybrid powertrain is the first time electrification has ever been added to the Corvette lineup. To accompany its burly 655 horsepower hybrid powertrain, the Corvette E-Ray wears the same wide-body kit and front-end treatment as the high-performance Z06 model. It's also the first all-wheel drive Vette; an electric motor powers the front wheels. The E-Ray will hit Chevy dealers in late 2023 as a 2024 model.
Corvette's first-ever hybrid powertrain consists of a 6.2-liter V-8 borrowed from the Corvette Stingray that makes 495 horsepower and drives the rear wheels through an eight-speed automatic transmission. A 160-hp electric motor sits on the front axle and drives those wheels, creating an all-wheel drive setup with a combined 655 horsepower. A small 1.9 kWh battery pack allows the Corvette E-Ray to travel at up 45 mph on electric power for short distances, in a drive mode Chevy is calling Stealth Mode. When both the electric motor and the V-8 are operating at full chat, Chevy says the Corvette E-Ray is capable of reaching 60 mph in as little as 2.5 seconds. That's quicker than the rear-drive 670-hp Corvette Z06 coupe