Located in the panhandle of Florida, Escambia County is the home to beautiful beaches, the Blue Angels, and now, one of the coolest police cars anywhere.   On June 25, 2022, during their annual "Dining for Deputies" event at Beef O' Bradys, the Escambia County Sheriff's Office unveiled their newest interceptor – a 2016 Corvette Z06 coupe!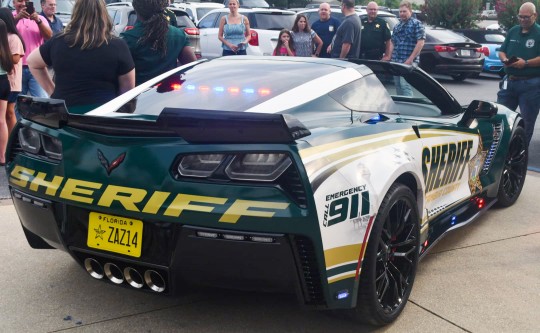 The car, which will outperform just about any police cruiser on the road, was seized from a felony suspect accused of soliciting drugs within the county.   The 650 horsepower/650 lb-ft of torque Corvette was given a new wrap that features "iconic local scenes, including the landing of Don Tristan de Luna and the Blue Angels at Pensacola Beach."  It was also outfitted with flashing red and blue lights, including a stylized light bar in the car's grille that shares more than a passing similarity with the light bar found on the fictional "KITT 2000" of Knight Rider fame.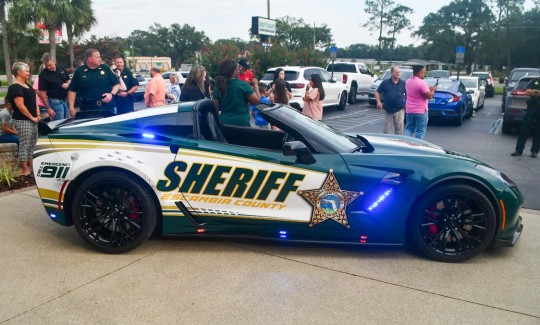 Although the car is properly adorned to serve as a patrol car, this Corvette will primarily be used for community events and recruiting purposes.  As for the cost to transform the car from a stock Corvette into the "coolest police car on the beach?"  The answer, at least as far as the taxpayers of Escambia County are concerned, was NOTHING.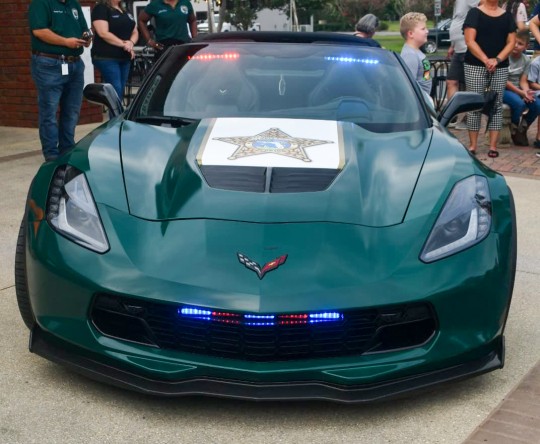 The Sheriff's office released a statement saying "no taxpayer dollars were used to fund this vehicle.  (The) new wrap and upgrades were funded by the Escambia County Sheriff Foundation."  The ECSF (for short), is a non-profit organization that aims to support employees of the Escambia Country Sheriff's Office, foster community engagement, and promote public safety.
It has been reported that this particular Z06 features a six-speed manual transmission, which will limit some of the officers from operating the vehicle.  Then again, with a 650 horsepower engine beneath its hood, this car will have every officer on the force clamoring to get behind the wheel as it will handily outperform any of the Ford Interceptors currently in the county's fleet!