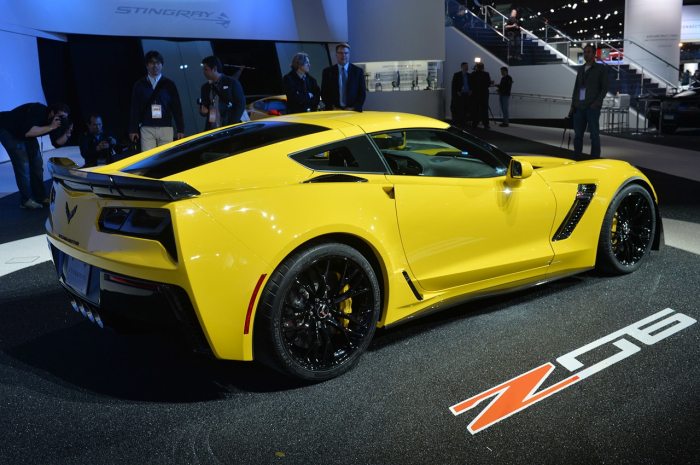 (Originally published by Car and Driver.)
With 650 horsepower and 650 pound-feet of torque pumping out of a 6.2-liter supercharged V8 and starting at $78,995, the 2015 Chevrolet Corvette Z06 is a performance powerhouse for its price. However, not everyone wants to drop that much cash on a sports coupe, especially when the base 2015 'Vette is a pretty potent package already… for tens of thousands of dollars less. However, for buyers wanting a taste of the Z06 in their regular C7, the Chevrolet Performance catalog might be more than ready to help in the near future.
According to Car and Driver, Chevy displayed one of these kitted up C7s at SEMA, although the brand still wasn't sure whether it would go through with actually offering the components. The parts included many of the Z06s special suspension bits that sharpen its handling like the shocks, anti-roll bars, control arms, carbon-fiber underbody bracing and the whole transverse leaf spring rear suspension. For better stopping, the quicker coupe's larger brakes and calipers were also available. To keep things running cool during hard driving, there was the high-flow radiator and rear transaxle oil-cooler. Finally, to get a little of the Z06's look, the model's front brake ducts, rear spoiler and rear vents were available, as well.
Bringing the parts from a limited-edition model down to something a touch more plebeian isn't a new move forChevy. The company also offered some bits of the Camaro Z/28 to customers, though on a restricted basis. Even more components from the ZL1 could be ordered to hop up a lower-tier Camaro, too. So while adding the Z06s parts to the Chevy Performance catalog might just be an idea for now, it would hardly be a shock to see them for sale in there eventually.