Corvette Racing Returns to WeatherTech Raceway Laguna Seca
Corvette Racing will begin its final drive at another title-winning campaign in the IMSA WeatherTech SportsCar Championship. The defending GT Le Mans (GTLM) championship-winning program travels west to the Monterey Peninsula and WeatherTech Raceway Laguna Seca for Sunday's America's Tire 250.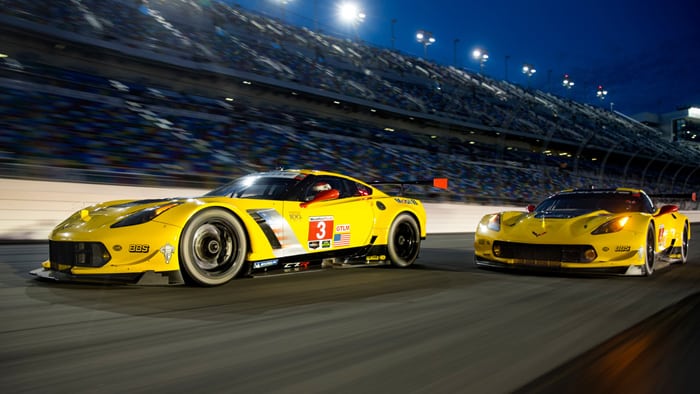 This will be the 10th of 11 IMSA events for Corvette Racing. For the first time this year, the No. 3 Mobil 1/SiriusXM Chevrolet Corvette C7.R enters a race leading the Driver and Team championships. Antonio Garcia and Jan Magnussen head the Driver standings and the No. 3 crew are first in Team points.  Garcia, Magnussen and the No. 3 Corvette team are also the current defending GTLM champions.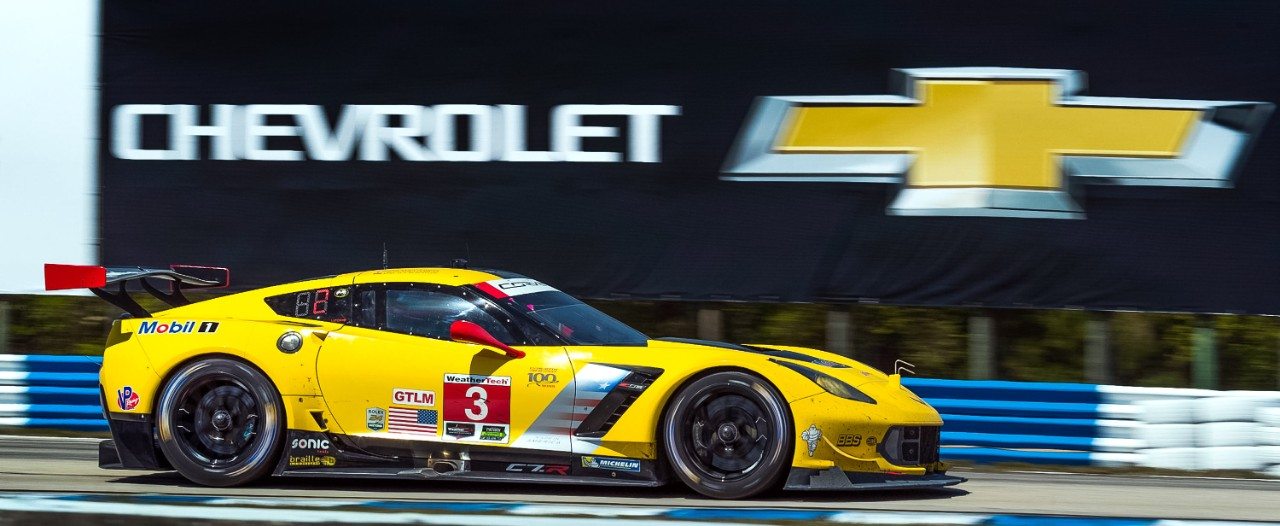 Corvette Racing's Oliver Gavin and Tommy Milner, drivers of the No. 4 Mobil 1/SiriusXM Corvette C7.R, are fourth in the Driver Championship. Ironically, they have earned the team's only class victory this year.  In the Manufacturer standings, Chevrolet is in second place and stands just 12 points out of the lead.

Corvette Racing will close its season at two tracks where it has achieved tremendous success – Laguna Seca and Road Atlanta.  Corvette Racing has earned a total of seven victories at Laguna Seca since 2004.  It is also just one of three tracks at which the team has competed in all of its previous 19 seasons.
Garcia and Magnussen are on a run of six consecutive podium finishes dating back to Mid-Ohio in early May.  They were runners-up at Watkins Glen, Canadian Tire Motorsport Park, Lime Rock Park and VIR.  They placed third at Mid-Ohio and Road America. The pair is eager for their first victory of the season, and Monterey would be an appropriate spot.  They scored back-to-back wins in 2013 and 2014.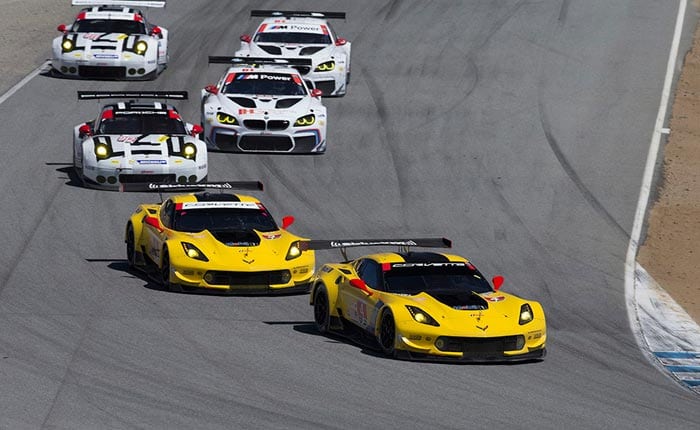 Before those consecutive victories, Gavin and Milner won together at Laguna Seca in 2012.  Gavin and Magnussen each have four victories at Laguna Seca, making them tied for second place for the most victories in the history of the venue.
The America's Tire 250 is set for 2:05 p.m. PT on Sunday with live television coverage on FOX Sports 1.  Streaming in-car footage, along with live audio coverage of practice, qualifying and the race from IMSA Radio is available on IMSA.com.
In Their Own Words
ANTONIO GARCIA, NO. 3 MOBIL 1/SiriusXM CHEVROLET CORVETTE C7.R: "Laguna Seca is always a nice race to go to. Jan and I have been fortunate to win a few times there. Let's see if this year is the same. We didn't win last year but did pretty much lock up the championship. It's a lot tighter this year. A good result for us would make things easier at Petit Le Mans. For us Europeans, we feel a little bit closer to home out there. We always like it, and the Monterey area is always very nice. We always have a good crowd and a great Corvette Corral there. For sure we know we have a lot of supporters there."
JAN MAGNUSSEN, NO. 3 MOBIL 1/SiriusXM CHEVROLET CORVETTE C7.R: "I've been fortunate to race at Laguna Seca many times. It's always a good trip and a good event. It can be a very tough track to read with the fluctuation in temperatures and amount of sand that comes on the surface. But it's like many other circuits in our championship where you are punished if you make a mistake. Antonio and I continue to be on a great run of races since Mid-Ohio but we aren't satisfied with podiums. We can't win this championship without winning a race as well. That continues to be our goal."
 OLIVER GAVIN, NO. 4 MOBIL 1/SiriusXM CHEVROLET CORVETTE C7.R: "This is a fantastic race track and one we always enjoy going to each year. It has a great series of corners – a tight and twisty track but a great challenge. We at Corvette Racing has had a lot of success there as a program and one we always look forward to this race on the calendar because of the event and the Monterey area. This is the business end of the season. Championship points are critical so all the teams will look to strategize and look to do what we can to do to get the best possible result for the championship. We always go there to win, so this will be a vital part of how the championship plays out."
TOMMY MILNER, NO. 4 MOBIL 1/SiriusXM CHEVROLET CORVETTE C7.R: "Our schedule is full of classic circuits, and Laguna Seca certainly qualifies. It's a great track and one of the best areas for sports car racing anywhere in the country. For a couple of reasons, the track can be pretty tricky when it comes to finding grip. That makes the practice sessions important to make sure we understand what makes the car work under braking and power-down on corner exit. The team that can do that quickest stands to have a big advantage come the race. Oliver and I have been quick the last few events, but we need to put it all together in the race."
DOUG FEHAN, CORVETTE RACING PROGRAM MANAGER: "As a steamy summer draws to a close, there is no place better to race than the Monterey Peninsula and WeatherTech Raceway Laguna Seca. It's the perfect track for a race with a lot at stake in the GTLM championship. We have a great history here – seven wins in 19 appearances. While we may not have the fastest car, we've shown throughout the last couple of years that our vehicle engineering, our on-track strategic decisions and our driver lineup is more than capable overcoming most challenges we have faced. It's a big reason why we have Antonio and Jan leading the Driver's Championship with two races left and Oliver and Tommy always running toward the front. We hope that continues in Monterey."
2018 WeatherTech SportsCar Championship – GTLM Standings (After nine of 11 Events)
Driver Standings
Team Standings
Manufacturer Standings

1. Antonio Garcia/Jan Magnussen – 269

2. Richard Westbrook/Ryan Briscoe – 265

3. Dirk Mueller/Joey Hand – 260

4. Oliver Gavin/Tommy Milner – 252

5. Earl Bamber/Laurens Vanthoor – 251

1. No. 3 Corvette Racing – 269

2. No. 67 Ford Chip Ganassi Racing – 265

3. No. 66 Ford Chip Ganassi Racing – 260

4. No. 4 Corvette Racing – 252

5. No. 912 Porsche GT Team – 251

1. Ford – 295

2. Chevrolet – 283

3. Porsche – 274

4. BMW – 267

5. Ferrari – 58
Corvette Racing at WeatherTech Raceway Laguna Seca
Year
Class
Drivers
Result
Car
Notes
1999
GTS
Fellows/Kneifel
2nd
Corvette C5-R
2000
GTS
Fellows/Pilgrim
2nd
Corvette C5-R
Fellows pole
GTS
Bell/Collins
4th
Corvette C5-R
2001
GTS
Fellows/O'Connell
2nd
Corvette C5-R
GTS
Collins/Pilgrim
3rd
Corvette C5-R
2002
GTS
Fellows/O'Connell
5th
Corvette C5-R
GTS
Pilgrim/Collins
3rd
Corvette C5-R
2003
GTS
Fellows/O'Connell
2nd
Corvette C5-R
GTS
Gavin/Collins
3rd
Corvette C5-R
2004
GTS
Fellows/O'Connell
1st
Corvette C5-R
O'Connell fastest race lap
GTS
Beretta/Gavin
2nd
Corvette C5-R
Beretta pole
2005
GT1
Fellows/O'Connell
2nd
Corvette C6.R
GT1
Beretta/Gavin
1st
Corvette C6.R
Gavin fastest race lap
2006
GT1
Fellows/O'Connell
3rd
Corvette C6.R
GT1
Beretta/Gavin
2nd
Corvette C6.R
Beretta fastest race lap
2007
GT1
Magnussen/O'Connell
2nd
Corvette C6.R
Magnussen pole, fastest race lap
GT1
Beretta/Gavin
1st
Corvette C6.R
2008
GT1
Magnussen/O'Connell
2nd
Corvette C6.R
Magnussen pole, fastest race lap
GT1
Beretta/Gavin
1st
Corvette C6.R
2009
GT2
Magnussen/O'Connell
2nd
Corvette C6.R
Magnussen pole, fastest race lap
GT2
Beretta/Gavin
10th
Corvette C6.R
2010
GT
Magnussen/O'Connell
6th
Corvette C6.R
GT
Beretta/Gavin
3rd
Corvette C6.R
2011
GT
Beretta/Milner
7th
Corvette C6.R
GT
Gavin/Magnussen
5th
Corvette C6.R
2012
GT
Garcia/Magnussen
2nd
Corvette C6.R
GT
Gavin/Milner
1st
Corvette C6.R
Gavin fastest race lap
2013
GT
Garcia/Magnussen
1st
Corvette C6.R
GT
Gavin/Milner
9th
Corvette C6.R
2014
GTLM
Garcia/Magnussen
1st
Corvette C7.R
Garcia pole
GTLM
Gavin/Milner
5th
Corvette C7.R
2015
GTLM
Garcia/Magnussen
7th
Corvette C7.R
GTLM
Gavin/Milner
6th
Corvette C7.R
2016
GTLM
Garcia/Magnussen
4th
Corvette C7.R
GTLM
Gavin/Milner
7th
Corvette C7.R
2017
GTLM
Garcia/Magnussen
4th
Corvette C7.R
GTLM
Gavin/Milner
8th
Corvette C7.R