2010 Corvette Factory Options
New for 2010
Here are the new features and content changes for the 2010 Corvette lineup:
Torch Red returns to the exterior color palette
Launch control is standard with all manual-transmission models
Revised six-speed automatic paddle shift control now includes a "push and hold" feature that enables an easier return to the automatic mode
Side air bags are standard on all models
New interior console trim in Orbit and Gunmetal patterns
Optional crossed-flags logo embroidery for seats
Convertible models include the tall rear spoiler from the Z06
Cashmere interior offered on Z06 – with Cashmere custom leather-wrapped interior offered later in the model year
The Z06 3LZ package now includes power sport seats and power passenger seats.
Launch control optimizes performance for full-throttle starts on a track. In competitive mode, the system will hold a predetermined engine speed while the driver pushes the throttle to the floor. That allows the driver to quickly release the clutch and the system modulates engine torque 100 times per second to maximize the available traction. The system is capable of approaching a skilled driver's best effort and repeats it consistently.
| | | | |
| --- | --- | --- | --- |
| RPO | Description | Production | Price |
| 2LT | Equipment Group – Coupe | 1,193 | $1,545 |
| 2LT | Equipment Group – Convertible | 686 | $3,540 |
| 2LZ | Equipment Group – Z06 | 1,654 | $3,015 |
| 3LT | Equipment Group – Coupe | 3,256 | $4,555 |
| 3LT | Equipment Group – Convertible | 1,974 | $6,550 |
| 3LZ | Equipment Group – Z06 | 1,163 | $6,515 |
| 3ZR | Equipment Group – ZR1 | 1,202 | $10,000 |
| 45U | Velocity Yellow Exterior Paint | 694 | $850 |
| 4LT | Equipment Group – Coupe | 431 | $7,705 |
| 4LT | Equipment Group – Convertible | 541 | $9,700 |
| 85U | Jetstream Blue Exterior Paint | 969 | $850 |
| 89U | Crystal Red Exterior Paint | 1,714 | $850 |
| C2L | Dual Removeable Roof Panels | 1,050 | $1,400 |
| CC3 | Removeable Roof Panel, Transparent | 1,336 | $750 |
| D30 | Non Recommended color / trim / top combo | 86 | $590 |
| F55 | Magnetic Selective Ride Control | 2,334 | $1,995 |
| MX0 | Six Speed Automatic Transmission | 6,913 | $1,250 |
| NPP | Dual Mode Exhaust System | 6,268 | $1,195 |
| OB1 | Crossed Flag Headrest Emboidery | 1,679 | $300 |
| PYD | Competition Gray Aluminum Wheels (Grand Sport) | 534 | $395 |
| PYE | Chrome Aluminum Wheels (Grand Sport) | 4,693 | $1,995 |
| Q44 | Competition Gray Aluminum Wheels (Z06) | n/a | $395 |
| Q44 | Competition Gray Aluminum Wheels (Z06) | 84 | $395 |
| Q6B | Chrome 20 Spoke Aluminum Wheels (ZR1) | 1,347 | $2,000 |
| Q6J | Competition Gray Aluminum Wheels (ZR1) | 123 | $395 |
| Q76 | Chrome Aluminum Wheels (Z06) | 82 | $1,995 |
| Q8A | Spider Chrome Aluminum Wheels (Z06) | 286 | $1,995 |
| Q9V | Forged Chrome Aluminum Wheels (Coup, Convertible) | 2,617 | $1,850 |
| QX1 | Competition Gray Aluminum Wheels (Coup, Convertible) | 183 | $395 |
| R8C | Museum Delivery | 307 | $490 |
| R8E | Gas Guzzler Tax (ZR1) | 1,577 | $1,300 |
| U3U | AM, FM, CD Navigation (Bose) | 6,626 | $1,750 |
| US9 | AM, FM Six Disc CD | 1,905 | $395 |
| VK3 | Front License Plate Bracket | 7,952 | $15 |
| VPK | Exterior Appearance Package | 10 | $2,110 |
| VPL | Exterior Appearance Package (w / Wheels) | 11 | $5,475 |
| Z15 | Grand Sport Heritage Package | 1,531 | $1,195 |
2010 Packages
| | | | | |
| --- | --- | --- | --- | --- |
| RPO | Description | Contains | Production | Price |
| 2LT | Equipment Group Convertible | Includes side impact air bags, sports seats, six way power passenger seat, cargo net and luggage shade | 214 | $3,190 |
| 2LZ | Z06 Preferred Equipent Group | Includes side air bags, power telescopic steering column, auto dimming mirrors, heated seats, RPO U2K, cargo net, luggage shade and homelink | 193 | $2,665 |
| 3LT | Preferred Equipment Group Coupe | Includes 2LT items + heads-up display, power telescopic steering column, auto dimming mirrors, memory package, heated seats, RPO US9 radio, compass and homelink | 3458 | $4,205 |
| 3LT | Preferred Equipment Group Convertible | Includes 2LT items + heads-up display, power telescopic steering column, auto dimming mirrors, memory package, heated seats, RPO US9 radio, compass and homelink | 2304 | $6,200 |
| 3LZ | Preferred Equipment Group Z06 | Includes 2LZ items + leather wrapped interior and bias pattern console trim | 193 | $7,170 |
| 3ZR | Preferred Equipment Group ZR1 | Includes 2LZ items + power-adjustable, leather-trimmed sport seats (embroidered with the ZR1 logo); Bose audio system; navigation; Bluetooth; custom leather-wrapped interior | 1426 | $10,000 |
| 4LT | Equipment Group Convertible | Includes 2LT and 3LT items + crossed flags headrest embroidery | 541 | $9,700 |
| 4LT | Equipment Group Coupe | Includes 2LT and 3LT items + crossed flags headrest embroidery | 431 | $7,705 |
Color Options & Quantities
| | | |
| --- | --- | --- |
| Code | Exterior | Quantity |
| 10 | Arctic White | 965 (7.91%) |
| 17 | Blade Silver | 974 (7.99%) |
| 41 | Black | 2,930 (24.03%) |
| 45 | Velocity Yellow | 694 (5.69%) |
| 57 | Cyber Gray | 1,699 (13.93%) |
| 70 | Torch Red | 2,249 (18.44%) |
| 85 | Jetstream Blue | 969 (7.95%) |
| 89 | Crystal Red | 1,714 (14.06%) |
Color Codes & Costs
| | | | | |
| --- | --- | --- | --- | --- |
| Code | Exterior | Wheels | Interior | Extra Cost |
| 10U | Arctic White | Alloy | E,CR,G,C | |
| 41U | Black | Alloy | E,CR,G,C | |
| 45U | Velocity Yellow** | Alloy | E,CR,G,C | $850 |
| 67U | Machine Silver Metallic | Alloy | E,CR,G,C | |
| 74U | Victory Red | Alloy | E,CR,G,C | |
| 83U | Atomic Orange Metallic** | Alloy | E,CR,G,C | $300 |
| 85U | Jetstream Blue* | Alloy | E,CR,G,C | $850 |
| 89U | Crystal Red Tintcoat* | Alloy | E,CR,G,C | $850 |
* Premium Paint.
** Premium Tint Coat Color.
** 83U, 67U and 45U available on Z06
Interior Color Options
| | | |
| --- | --- | --- |
| Code | Color | Extra Cost |
| 23 | Cobalt | |
| 26 | Cobalt Red Two Tone | $695 |
| 193 | Ebony | |
| 245 | Sienna | |
| 313 | Cashmere | |
| 316 | Cashmere Two Tone | $695 |
| 425 | Linen | |
| 843 | Titanium | |
| 846 | Titanium Two Tone | $695 |
Convertible Top Color Options
| | | |
| --- | --- | --- |
| Code | Color | Liner |
| 35T | Beige | Beige |
| 37T | Gray | Gray |
| 41T | Ebony | Ebony |
Wheel Option
Wheels, spider design, Z06 Competition Gray-painted aluminum $395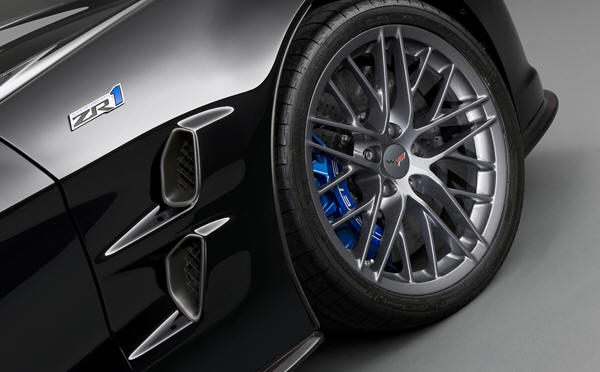 For more 2010 Corvette, see our 2010 Corvette Research Hub and 2010 Corvette Model Guide