The arrival of the 1988 model year brought with it the 35th anniversary of the Chevy Corvette.  For General Motors as a whole, and especially for the teams of people responsible for the design and development of "America's Sports Car", this anniversary was significant not only because of the milestone it represented, but because the thirtieth anniversary of Corvette had passed with barely a whisper.
Read More: 1988 Chevrolet Corvette Research Center
1988 Corvette Specifications
1988 Corvette Main Specs
MODEL:
1988 Chevrolet Corvette
BODY STYLE:
Two-door Coupe/Hatchback, front engine, rear wheel drive
MANUFACTURING LOCATION:
Bowling Green, Kentucky
CONSTRUCTION:
Fiberglass body, unibody construction with partial, front frame including both steel and stainless steel components.
VEHICLE NUMBERS (VIN):
1G1YY2182J5100001 THRU 1G1YY2182J5122789
VIN SUFFIX:
ZMA: 350 CUBIC INCH, 240/245 HORSEPOWER, AUTOMATIC
ZMC: 350 CUBIC INCH, 240/245 HORSEPOWER, MANUAL, ENGINE OIL COOLER
ZMD: 350 CUBIC INCH, 240/245 HORSEPOWER, AUTOMATIC, ENGINE OIL COOLER
ENGINE BLOCK NUMBER:
14093638: ALL
HEAD NUMBER:
10088113: ALL
Note: For Callaway Twin-Turbo, Chevrolet engine coding was replaced as follows: First two digits for year, next three digits for Callaway sequence, last four digits to match the last four digits of the vehicle identification number.


---
1988 Corvette Wheels, Suspension & Brakes
Suspension (Coupe/Convertible)
| | |
| --- | --- |
| Front Suspension | Single fiberglass composite mono-leaf transverse spring with unequal-length aluminum control arms and stabilizer bar. |
| Rear Suspension | Fully independent five-link system with transverse fiberglass single-leaf springs, aluminum upper/lower trailing links and strut-rod tie-rod assembly |
Suspension (Callaway Twin Turbo)
| | |
| --- | --- |
| Front Suspension | Independent, unequal–length control arms, plastic leaf springs, 3-position-cockpit-adjustable shock absorbers, anti-roll bar. |
| Rear Suspension | Independent, fixed-length half shafts, 2 lateral links and 2 trailing links per side, plastic leaf spring, 3-position cockpit-adjustable shock absorbers, anti-roll bar. |
Wheels & Tires (Coupe/Convertible/Callaway)
| | |
| --- | --- |
| Front Tires | P255 / 50VR16, P275 / 40ZR-17* |
| Rear Tires | P255 / 50VR16, P275 / 40ZR-17* |
| Front Wheels | Wheels: 16 x 8.5, 17 x 9.5* |
| Front Wheels | Wheels: 16 x 8.5, 17 x 9.5* |
*Denotes cars equipped with Z51/Z52 options and Callaway Twin Turbo Corvette
Brakes (Coupe/Convertible)
| | |
| --- | --- |
| Front Brakes | 11.5 Inch Rotors with ABS / 13.0 Inch (Z51) |
| Rear Brakes | 11.5 Inch Rotors with ABS / 12.0 Inch (Z51) |
Brakes (Callaway Twin Turbo)
| | |
| --- | --- |
| Front Brakes | 12.9 x 1.1 Inch Vented Discs with Vacuum Assisted ABS |
| Rear Brakes | 11.9 x 0.8 Inch Vented Discs with Vacuum Assisted ABS |

1988 Corvette Powertrain Specifications
L98 5.7 OHV 350 V-8. Tuned-Port Fuel Injection (COUPE)
| | |
| --- | --- |
| Engine: | L98 5.7 OHV 350 V-8. Tuned-Port Fuel Injection (COUPE) |
| Cylinders: | V8 |
| Block Material: | Cast Iron Alloy |
| Displacement: | 5.7 Litre/350 Cubic Inches |
| Bore & Stroke: | 4.00 x 3.48 inches |
| Valvetrain: | OHV, 2 valves per cyl. |
| Cylinder Head Material: | Aluminum |
| Cylinder Block Deck Height: | 9.025 Inches |
| Compression Ratio: | 9.50:1 |
| Horsepower: | 240 HP @ 4,300 RPM |
| Torque: | 340 lb-ft @ 3,200 rpm |
| Fuel Delivery: | Tuned-Port Fuel Injection |
| Fuel Capacity: | 20.0 Gallons |
| Oil Capacity: | 4.5 Quarts (Without Filter) |
| Total Dressed Engine Weight (Dry): | 585.7lbs |
| Transmission: | 4+3 Speed Manual / Turbo Hydra-Matic 700 R-4, 4-speed  Automatic |
| Standard Axle Ratio: | 2.59:1 (Automatic), 3.07:1 (Manual) |
L98 5.7 OHV 350 V-8. Tuned-Port Fuel Injection (COUPE w/3.07:1 AXLE & CONVERTIBLE)
| | |
| --- | --- |
| Engine: | L98 5.7 OHV 350 V-8. Tuned-Port Fuel Injection (COUPE w/3.07:1 AXLE & CONVERTIBLE) |
| Cylinders: | V8 |
| Block Material: | Cast Iron Alloy |
| Displacement: | 5.7 Litre/350 Cubic Inches |
| Bore & Stroke: | 4.00 x 3.48 inches |
| Valvetrain: | OHV, 2 valves per cyl. |
| Cylinder Head Material: | Aluminum |
| Cylinder Block Deck Height: | 9.025 Inches |
| Compression Ratio: | 9.50:1 |
| Horsepower: | 245 HP @ 4,300 RPM |
| Torque: | 340 lb-ft @ 3,200 rpm |
| Fuel Delivery: | Tuned-Port Fuel Injection |
| Fuel Capacity: | 20.0 Gallons |
| Oil Capacity: | 4.5 Quarts (Without Filter) |
| Total Dressed Engine Weight (Dry): | 585.7lbs |
| Transmission: | 4+3 Speed Manual / Turbo Hydra-Matic 700 R-4, 4-speed  Automatic |
| Standard Axle Ratio: | 2.59:1 (Automatic), 3.07:1 (Manual) |
L98 5.7 OHV Turbo-Charged 350 V-8. Electronic Port Fuel Injection (CALLAWAY TWIN-TURBO)
| | |
| --- | --- |
| Engine: | L98 5.7 OHV Turbo-Charged 350 V-8. Electronic Port Fuel Injection (CALLAWAY TWIN-TURBO) |
| Cylinders: | V8 |
| Block Material: | Cast Iron Alloy |
| Displacement: | 5.7 Litre/350 Cubic Inches |
| Bore & Stroke: | 4.00 x 3.48 inches |
| Valvetrain: | OHV, 2 valves per cyl. |
| Cylinder Head Material: | Aluminum |
| Cylinder Block Deck Height: | 9.025 Inches |
| Compression Ratio: | 7.50:1 |
| Horsepower: | 382 HP @ 4,250 RPM |
| Torque: | 562 lb-ft @ 2,500 rpm |
| Fuel Delivery: | Elec. Port Fuel Injection |
| Fuel Capacity: | 20.0 Gallons |
| Oil Capacity: | 4.5 Quarts (Without Filter) |
| Total Dressed Engine Weight (Dry): | 585.7lbs |
| Transmission: | 3.54:1 Limited Slip |
| Standard Axle Ratio: | 2.59:1 (Automatic), 3.07:1 (Manual) |
| Turbos | 2 Rotomaster T04 Compac |
| Wastegate | Integral |
| Max Boost Pressure | 10.8psi |

---
---
1988 Corvette Exterior Dimensions
Coupe Dimensions

Exterior Dimensions (Coupe & Conv)
Interior Dimensions (Coupe & Conv)
Wheelbase:
96.2 Inches
Headroom:
N/A
Overall Length:
176.5 Inches
Shoulder Room:
N/A
Total Body Width:
71.0 Inches
Hip Room:
N/A
Overall Height:
46.7 Inches
Leg Room:
N/A
Front Track Width:
59.6 Inches
Rear Track Width:
60.4 Inches
Min. Ground Clearance
4.7 Inches
Exterior Dimensions (Callaway)
Interior Dimensions (Callaway)
Wheelbase:
96.2 Inches
Headroom:
N/A
Overall Length:
179.0 Inches
Shoulder Room:
N/A
Total Body Width:
71.0 Inches
Hip Room:
N/A
Overall Height:
46.7 Inches
Leg Room:
N/A
Front Track Width:
59.6 Inches
Rear Track Width:
60.4 Inches
Min. Ground Clearance
4.3 Inches
Capacities
Capacities
Passenger Capacity
2 – Driver & Passenger
Curb Weight (lbs)
3,330 (Coupe),3,279 (Convertible), 3,500 (Callaway)
Interior Passenger Volume (cu. ft)
8.4
Interior Trunk Volume (cu. ft)
24 (approximately)
Fuel Capacity (gallons):
20.0
Coolant capacity without heater (qts.)
21.6
Battery:
12 Volt, 3,500 Watts
Generator Output:
14-22 Amps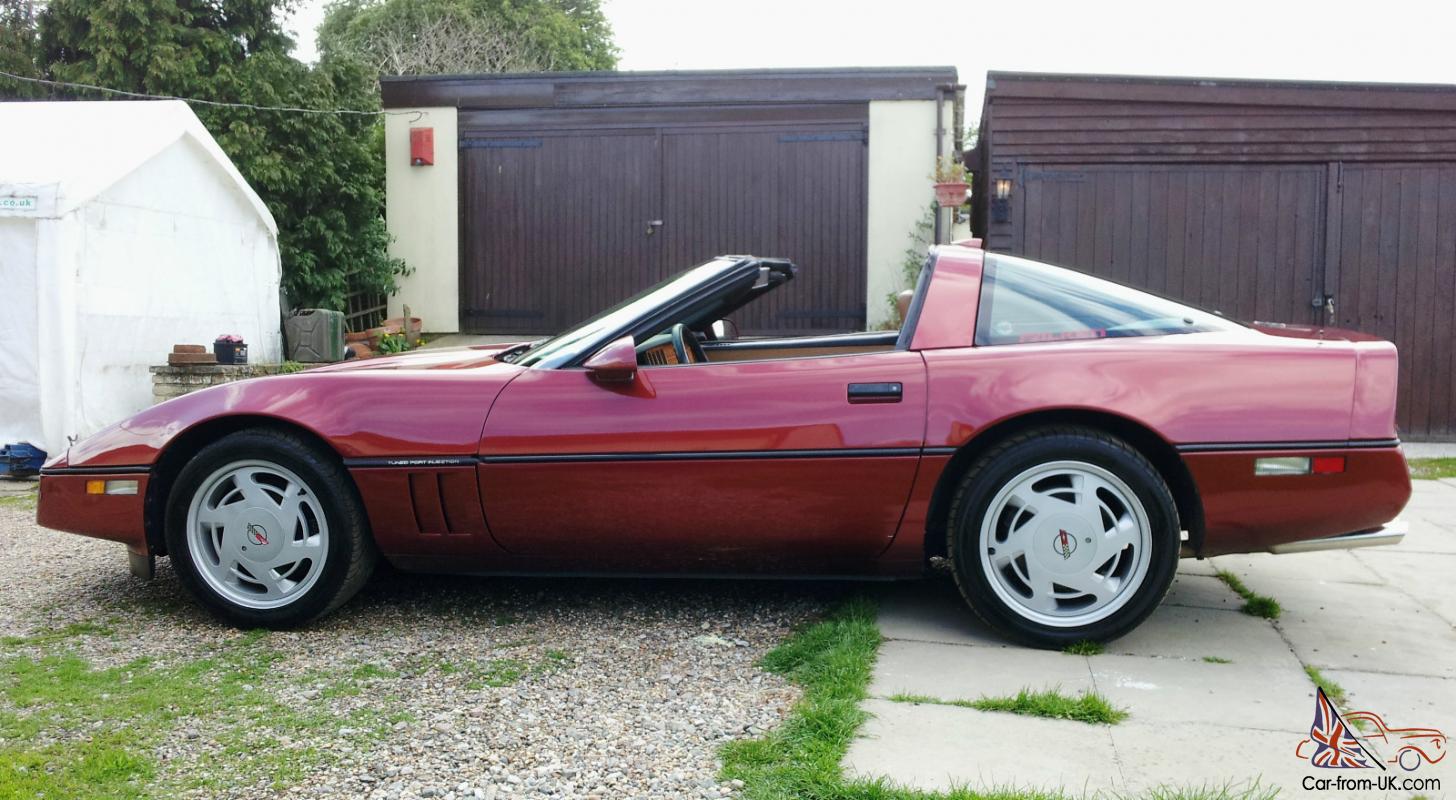 1988 Corvette Performance Results
| | | |
| --- | --- | --- |
| Performance | Standard | Callaway Twin Turbo |
| 0-60 MPH: | 5.6 Seconds | 4.4 Seconds |
| 0-100 MPH: | 16.3 Seconds | 10.5 Seconds |
| QUARTER MILE: | 14.3 Seconds @ 95.0 | 12.9 Seconds @ 111.0 |
| TOP SPEED: | ~150 mph | 191 MPH |