SCCA Trans-Am Corvette
This story was first published at corvette-racing.tripod.com
The first car to be delivered went to the Tommy Morrison team, who did the final build and set-up for Greg Pickett and Tommy Riggins (# 2 MOBIL 1 Polyvoltac). This car ran under the Morrison banner for two years before being sold. In the first year (1987) the MOBIL 1 sponsor colors were dominant. Greg Pickett was the lead driver and the car was entered under the Protofab banner. By the end of the season, the car was under Mobil 1/Mid America banner. Two cars were entered by the end of the season, with ally Dallenbach Jr in the second car. In 1988, POLYVOLTAC increased their sponsorship and the car wore the now-famous black and white POLYVOLTAC colors. For 1988 IMSA driving was largely assumed by Tommy Riggins and John Jones.
Wally Dallenbach (Jr) ran the car in both IMSA and Trans-Am races in 1988 but only one race in 1989. For Trans-Am, Greg Pickett, Jack Baldwin and Tommy Riggins would drive at different races. In late 1988, the car was sold (by Protofab) to John and Hunter Jones, who owned Kuala Springs flavoured water. The Kuala Springs team also bought the # 5 Dallenbach car. The Kuala Springs business was sold, around the same time, to Seagrams, on condition that they would have sponsorship for the race car for one year from Seagrams. A fall-out amongst partners in the team (Richard Andison versus the Jones boys) resulted in the two cars going in different directions.
Also in 1990, Rick Mancuso bought the # 2 car and then re-sold it to what is reported to be a gentleman from South America. At this time, however, it would seem that this might have been Luis Mendez, from the Dominican Republic. Luis ran one IMSA race (Miami) each year for several years. This is under active research. In 1993, Mendez picked a ride with Irv Hoerr's Oldsmobile and contracted the Corvette to Tommy Riggins, to drive in the Miami race. Subsequent cars were delivered to Jerry (Darin) Brassfield (car # 88), Wally Dallenbach (car # 5), possibly Greg Walker Racing (cars #68 and 69), and others.
Engine
Although there was a general requirement for a stock type engine in this era, the actual eligibility of an engine was determined by a displacement to weight formula. Engines for this car varied. Although the car began its racing career with a normally aspirated induction, it is believed that it was also run with a turbocharged V6. Driveline: SCCA mandates a 2500 pound minimum weight. The addition of ballast would be calculated based on the engine and fuel systems being used, as well as other competition factors. Weismann 5-speed transmission GM rack and pinion steering GM Delco shocks Brembo brakes 47 inches tall 65 inches wide 96 inch wheelbase. As matters turned-out, GM did not end-up being the supplier. Instead, the chassis for the new C4 IMSA/SCCA tubeframe race cars would be built-to-order by Bob Riley, in his PROTOFAB shop
Rear Axle/Brakes
Weismann 5-speed transmission GM rack and pinion steering GM Delco shocks Brembo brakes 47 inches tall 65 inches wide 96 inch wheelbase.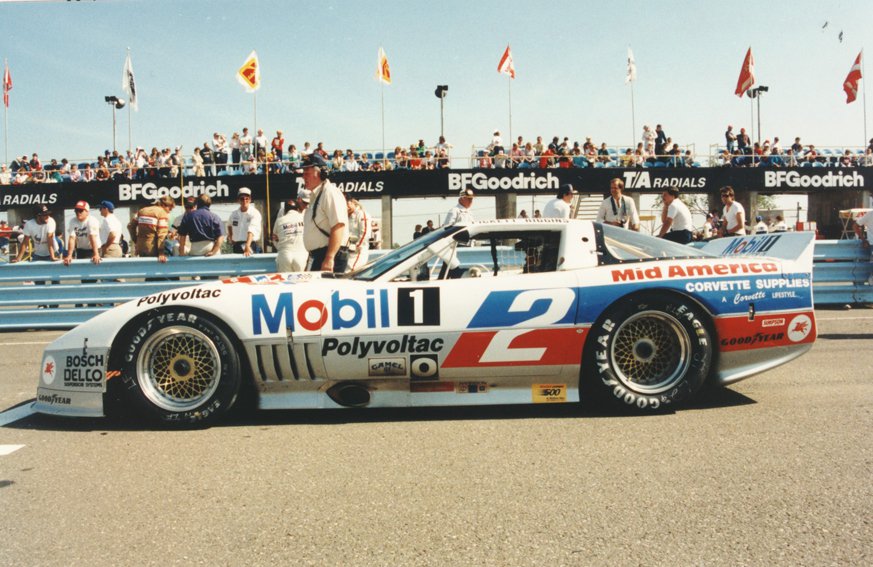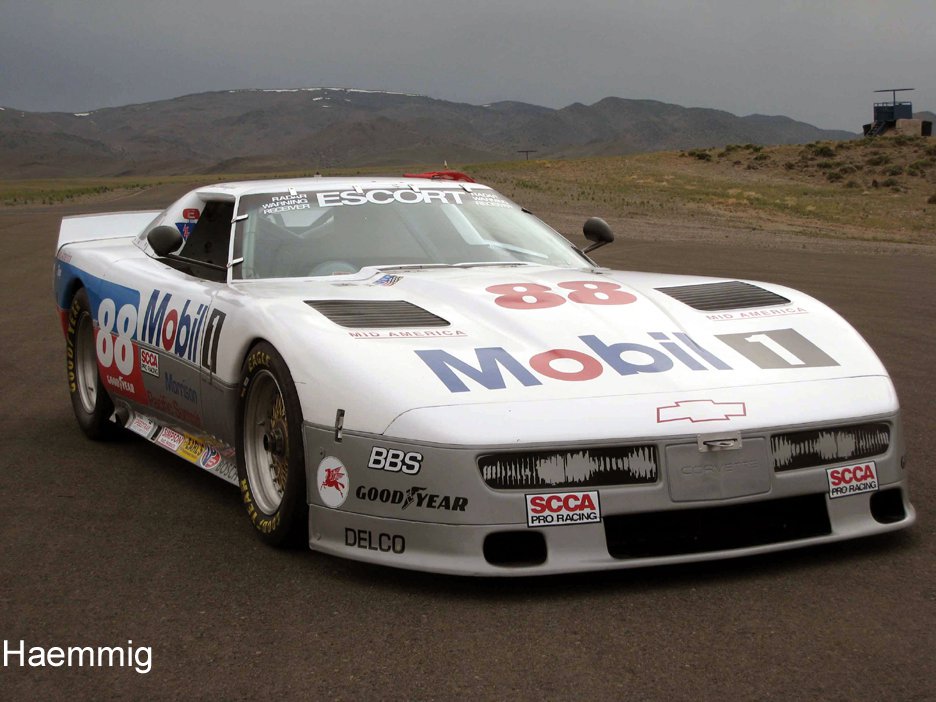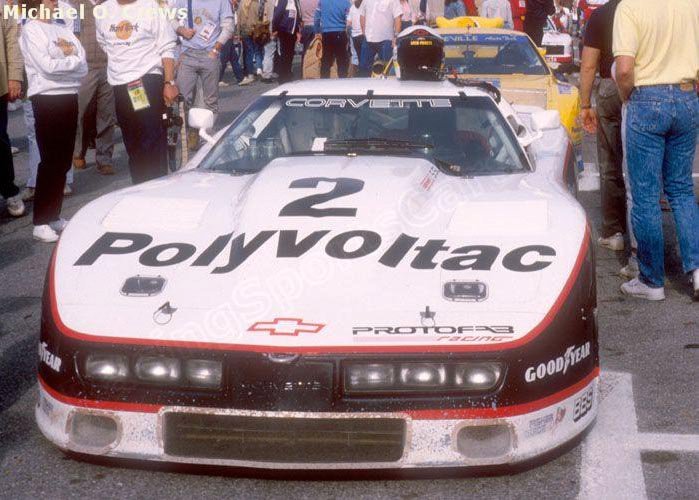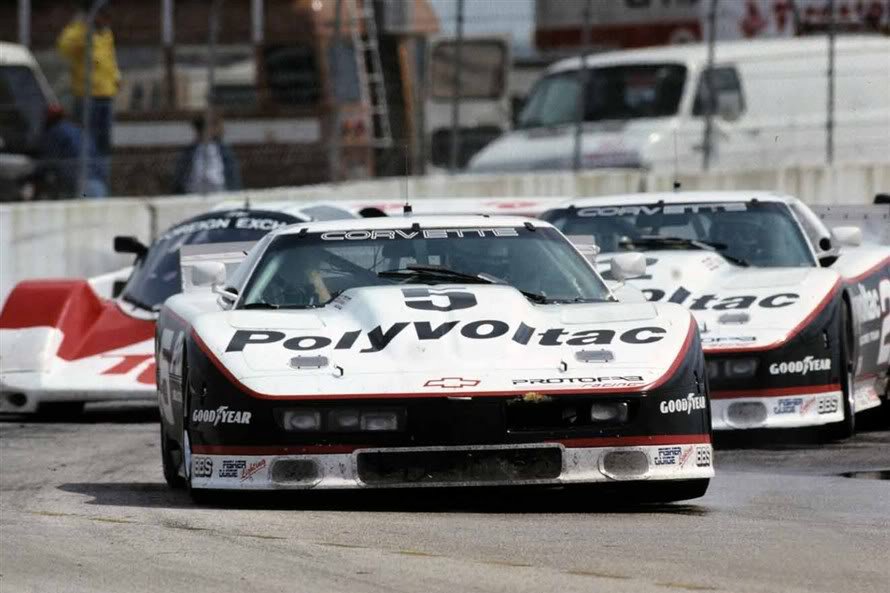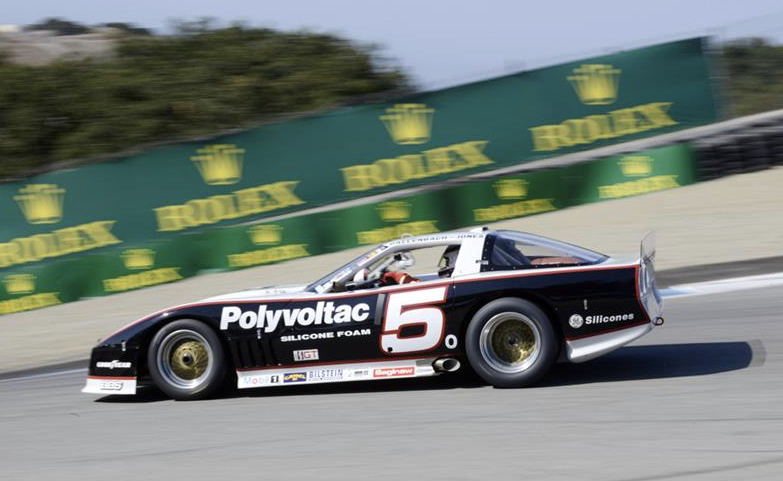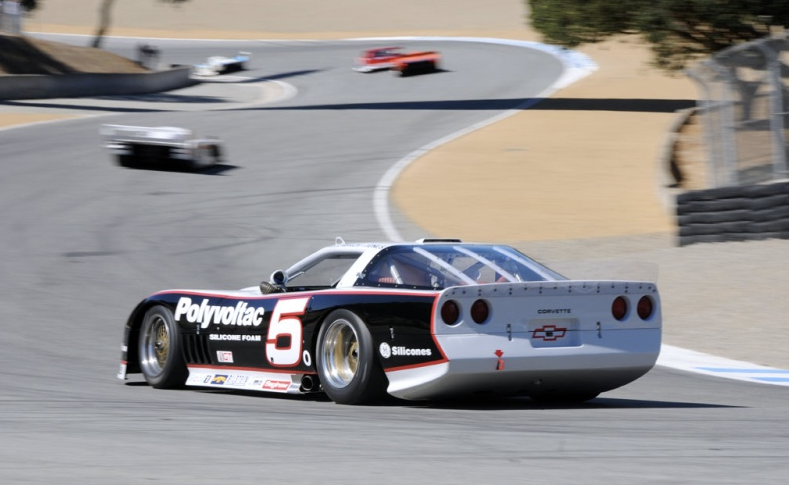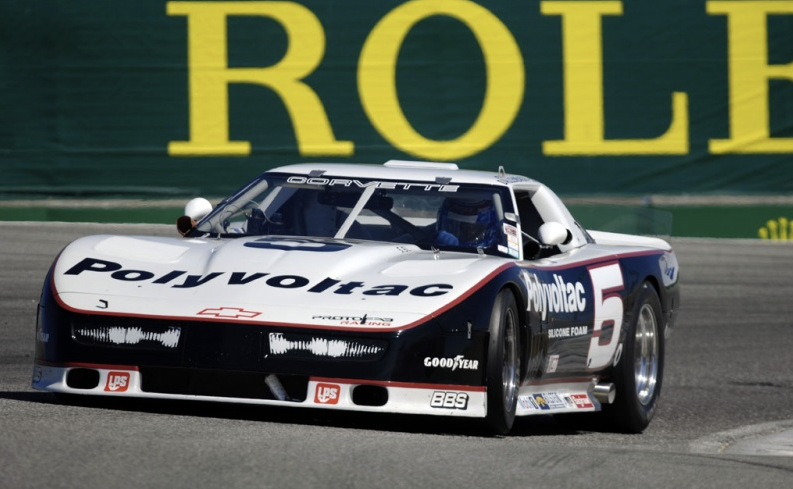 The Full Story
The story of this Chevrolet begins with Fords – specifically, the purpose-built IMSA Mustangs and SCCA Trans Am Mercury Capris that became major forces in those series in 1984-85. In 1985, a Mustang built by Jack Roush and chassis firm Protofab took a young John Jones to the IMSA GTO crown and a Roush Protofab Mercury Capri had done the same for Wally Dallenbach, Jr. in the Trans Am championship. The two had paired up for certain endurance events in Fords.
The Fords had effectively stolen the thunder of the existing GM entry that had dominated the 1983 Trans Am Season in the hands of racers David Hobbs and Willy T. Ribbs – Neil DeAtley's Camaros. The DeAtley Camaros were backed with light support from GM; and they were followed in 1984 DeAtley Corvettes, which introduced new suspensions to the chassis and promoted the then-new C4 Corvette.
GM's competition chief Herb Fishel was eager to get GM cars back to the top of the podium in Trans-Am and the increasingly popular IMSA GTO series. So it was that Fishel approached Protofab to create a Corvette to vanquish the Fords. There was also an IMSA GTP Corvette program at the time.
Ultimately, the Protofab Corvette was not a hugely successful car and was mostly forgotten – bracketed by more successful competition programs before and after its brief 1987-89 run. But it was surrounded by a constellation of racing all stars including Jones, Ribbs, Dallenbach, famous Corvette racer Tommy Morrison, and future all-star race car designers Bob Riley and Gary Pratt.
These new Corvettes would compete in both series, but the popular emphasis was on IMSA. The GTO cars were slotted between the more production-oriented GTU cars and the Prototype GTPs, but became a kind of GTP of their own.
Rule changes in the mid-1980s, aimed at driving manufacturer support of the series, meant almost everything could be modified and the cars had little in common with their street equivalents. For example, Toyota's AAR Celicas were rear-drive despite the street Celica having become a front-drive car, and powered by the Group-B Rally sourced 4T-GTE four. The Celica Turbo and Roush Merkur XR4Tis quickly proved the cars to beat in the 1988 season, when the Protofab Corvette would be fully online.
Protofab was a chassis design house and a small one – it consisted of Charlie Selix (the boss), Bob Riley (soon to co-found Riley & Scott, a more famous race car builder) who was the chief engineer, his son Bill Riley, and constructors Gary Pratt and Pancho Weaver. When IMSA and SCCA racing had transitioned to tube-frame cars, specialists flourished in building the most competitive chassis for what were now really bespoke silhouette racers.
It took awhile for the Corvette to arrive, but in the meantime Protofab also built Camaros, raced to great effect by Wally Dallenbach Jr. in 1986. Dallenbach had become the youngest ever Trans-Am champion in 1985 behind the wheel of a Protofab Mercury Capri, narrowly beating Ribbs who also drove a Capri that year. In 1986, he'd campaigned a Protofab Camaro and won the championship again.
Longtime Corvette racer Tommy Morrison of Morrison Motorsports (originally Morrison-Cook Motorsports) was the first to get one of the Protofab Vettes, with his drivers Greg Pickett and Tommy Riggins in 1987. In 1988, Dallenbach and Jones both periodically drove for Morrison in the Protofab Corvettes in major events. The engines used to power the cars were determined by the event and the series they were running in.
The Corvette seemed off the pace from the start, and never dominated the field, but it did have a few great outings. Jones ran only a limited number of races in the Corvette, winning the 1988 Sebring 12 hour (GTO class) with Dallenbach as his copilot. In Dallenbach's hands the car also scored a 2nd at Sears Point and a win at Lime Rock in the fall of 1988. In 1989, he moved back to Roush and was more competitive.
Riley later said five of the Protofab 'Vettes were built (some sources say six), but even before they were all deliverd, GM was already working on the next project – an IMSA GTU version of the Chevy Beretta (built by Peerless, not Protofab) that would be very successful in the hands of Tom Kendall (then called "Tommy"), also in 1988.
Morrison didn't buy any more cars from Protofab after 1987, but kept racing Corvettes for years. When stock C4 Corvettes were banned in SCCA competition due to their dominance, he helped create a stock series for the cars and also provided testing input to C4 engineers in Michigan to help create the Corvette ZR-1. In 1990, he and his team made headlines with an endurance record set in a bone stock ZR-1 that he ran for 24 hours at an average speed of 175mph.
The Protofab team fractured, with Bill Riley forming Riley & Scott with Mark Scott, and Gary Pratt forming Pratt & Miller with Jim Miller in 1990. Both firms would go on to build many winning racers including more Corvettes, though not until the time of the C5.
The Protofab Corvette may not have won too many races when it was new, but it was still an enormously fast car and is now campaigned as a vintage racer. Of the five built three were still racing into the 2000s. This car is the original Morrison team car driven by Dallenbach in 1988, sporting Polyvoltac livery not dissimilar to the GM Goodwrench look seen in NASCAR at that time. Morrison didn't order anything more from Protofab after 1987, and sold the cars in 1989.
The Dallenbach car eventually made its way to famous Corvette collector and racer John Goodman in 2012, who campaigns the car fairly regularly in vintage events